Secondhand Brawlers
by Ravi Mangla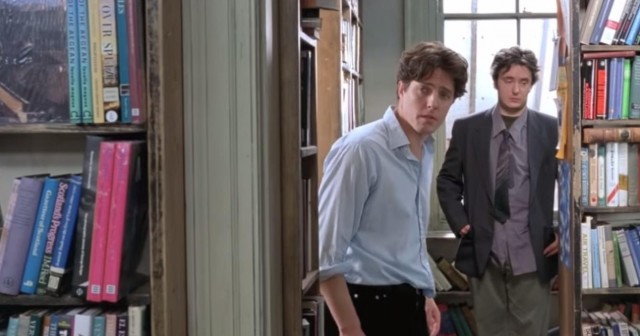 Of the steady accumulation of books in my apartment, I imagine nearly half were acquired at library book sales. This includes calorific comfort reads like the complete works of Flannery O'Connor, Wallace Stevens, Elizabeth Bishop, and Isaac Babel (these seasonal sales are lousy with collected volumes). While I purchase some books new, the rest are reaped — due to ongoing financial constraints — from cardboard boxes in library common rooms. (For the sake of self-aggrandizement, let's call these books "rescues.")
If I were the pious type, I would belong to the church of couponing. My soul sings for limited-time deals. These sales have become sacrosanct to me. Dates are circled on the calendar weeks in advance. I relish all aspects of the ritual, from claiming my colored number to lining up single-file (or some slight variation on this format). To the fiercer among us, these book sales resemble gladiatorial sport (sans lion). The early moments of a sale teeter precipitously between order and abject chaos. It wouldn't take much to descend into outright looting. Each successive aisle presents a unique series of obstacles: parked strollers, motorized scooters, sinister twins in blue dresses. Standing room is at a premium, and I have learned to take light meals in order to draw in my gut. Yet for all the inadvertent skin contact, the sales have a decidedly celibate air. Chalk it up to the sleepy libidos of inveterate readers. (Our pheromones are slow swimmers.) We have come here with a solitary objective: to pillage and plunder. Fortune favors the nimble-fingered. Those unwilling to act swiftly and with a certain measure of abandon go home with coffee-stained Jodi Picoult or spineless Paul Reiser.
There's an arcane beauty to be found in used books. Each volume bears a secret history. In the same way a painting gains value from the pedigree of its previous owners, so too does a book grow in personal worth by the quality of its provenance, the amount of love that was lavished upon it by past readers. Inscriptions, initials, underlines — all indicate layers of lived experience, the inky residue of deep attachment. To purchase a used book is to secure entrée into an exclusive club, to be part of an ongoing lineage of readers.
At some point I realized how easy it would be to snatch paperbacks indiscriminately and sell them at the box bookstore down the street for a neat profit. But this seemed a shameless breach of etiquette, a seedy way to score a quick buck. I have no doubt others have caved to the temptation. If reading is supposed to make us more compassionate creatures (and I'm not saying that it does), I wonder about all the small quarrels I've witnessed: spats over the latest James Patterson offering, the covert shoves and elbows. Sometimes human compassion takes a little practice. If someone has blocked your only avenue of access to the mystery novels, don't push them aside, don't complain. Wait. If an elderly woman needs a hand carrying her books to the counter, help her. If a pendulous purse wallops you in the back, don't confront the offender. Let them pass. And if a toddler, separated from its guardians, tugs at your shirt sleeve and asks for your copy of The Little Prince, give it to her.

Used Book Highlights
• The Principles of Uncertainty by Maira Kalman — $1 (absolutely delightful book)
• The Little Disturbances of Man by Grace Paley — $2.16 (signed by Paley: For Victoria, Grace Paley, Feb 3 Paris '89)
• The Quarterly Issue #1 — $0.50 (legendary and long defunct literary magazine)
• The Anchor Book of New American Short Stories — $1 (the word "seven" is repeatedly underlined by previous owner/serial killer)
• The Collected Stories of Isaac Bashevis Singer — $0 (how can you beat that?)
Ravi Mangla is the author of the novel Understudies (Outpost19). His work has appeared in the Los Angeles Review of Books, The Rumpus, Electric Literature, and McSweeney's Internet Tendency. He tweets @ravi_mangla.
---
Support The Billfold
The Billfold continues to exist thanks to support from our readers. Help us continue to do our work by making a monthly pledge on Patreon or a one-time-only contribution through PayPal.