Want to Watch 'North and South' Together?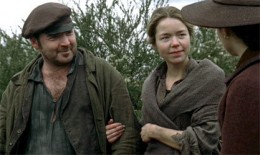 The Billfold Book Club has spent the past two months reading Elizabeth Gaskell's North and South, the 150-year-old novel that asks the question "can business owners and employees ever take the needs of the other fully into account?" (The answer is an unqualified maybe.)
We now have the opportunity to watch the 2004 BBC miniseries, starring Richard Armitage as Mr. Thornton, Daniela Denby-Ashe as Margaret Hale, and Brendan Coyle, aka "Downton Abbey's Mr. Bates," as Nicholas Higgins.
It's available for streaming on Amazon (and is free for Amazon Prime members), and there are many other ways to stream or buy it if you're not interested in doing the Amazon thing.
It looks like we have a couple of options:
1) We set a date for miniseries discussion and watch it on our own at some point before the discussion.
2) We set a date for simultaneous miniseries watching, and share our thoughts as we go, either in a comment thread, a chat interface (probably Gchat), or a Twitter hashtag. It would be like last night's #PeterPanLive.
It's worth noting that since the miniseries is four hours long, we might have to chop it up into a few sections if we did a simultaneous watch.
I am suspecting that the "watch it on your own and then discuss together" method would be an easier way of doing this, especially during a month when everyone is traveling and doing holiday things. (If we were going to discuss this together, simultaneous or not, I'm thinking the second week of January might be the best time for it.)
What do you all think? Do you want to do this? Or have we Northed and Southed enough?
We also need to decide what our next Billfold Book Club book might be, so leave your suggestions in the comments.
---
Support The Billfold
The Billfold continues to exist thanks to support from our readers. Help us continue to do our work by making a monthly pledge on Patreon or a one-time-only contribution through PayPal.