To Pay Back Loans Faster, Go West, Young Man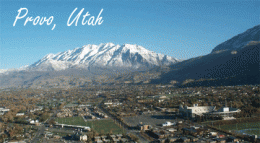 Nearly three-quarters of college students borrow funds to pay for school these days and, as we know, it is not always easy — or possible — to pay those loans back. Well, it turns out one thing you might be able to do to help yourself succeed is move. Specifically, move west.
According to schools.com, four of the top five states for student loan repayment are on the Pacific side of things: Utah, Wyoming, Washington, and Nevada. (The fifth is Virginia so the Atlantic gets a brief nod.) California and Colorado also place in the top 10. But stop short of Cali: San Francisco is a luxury ghost town these days. ("On average, 39 percent of condos built since 2000 have absentee owners, and for newer buildings like One Rincon Hill, that number is 50 percent or above.") Also there's no water.
Why is the West such fertile ground for loan repayment? Low unemployment rates, low cost-of-living, and high incomes boost Utah and Wyoming. Washington State, Wyoming, and Nevada make things easier on residents by not charging income tax. Wait, what?
FYI, there are only seven states that don't charge income tax: Alaska, Florida, Nevada, South Dakota, Texas, Washington, and Wyoming. I can understand the small and the oil-rich not needing to profit off individuals but how on earth do huge states with significant populations of poors and olds like Texas and Florida get away with that? Texas makes up the difference via property taxes, "some of the highest in the nation." New Jersey and New Hampshire are also expensive places to own property. And Florida … is there anything good to say about Florida?
---
Support The Billfold
The Billfold continues to exist thanks to support from our readers. Help us continue to do our work by making a monthly pledge on Patreon or a one-time-only contribution through PayPal.