The Widespread Popularity of HGTV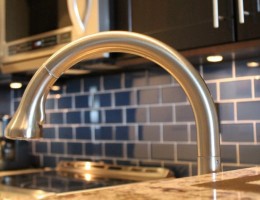 Sometimes, at a dinner party, or at another kind of event where you are meeting friends of friends and engaging in small talk, you'll start off by talking about what you do, and then where you live, and how crazy the real estate market is around here and how that's reflected on shows like Selling New York, and then you suddenly realize that the acquaintance in front of you has also watched HGTV on more than one occasion, and have they seen Love It or List It or Property Brothers?
I don't have cable, nor own a television for that matter, and yet somehow, I'm aware of all of this. I'll be traveling for work somewhere and will find myself in my hotel room watching someone put up a subway tile backsplash in their kitchen.
Why do so many people watch HGTV? According to Pacific Standard's Phillip Maciak, HGTV is "so watchable because it features attainably realistic ritual re-enactments of the American Dream every half-hour."
We might never actually buy a house in France, but it's nice to think about it sometimes, and we can do so through House Hunters International. There's something truly American about watching people flip houses with the housing crash still lingering in our recent memory.
But perhaps the most compelling reason so many of us watch HGTV is because — as Maciak points out — all of the programming on the network resembles procedural shows like Law and Order and CSI. A problem is introduced; a problem is investigated; it all kind of works out in the end.
And there is always a problem. Nothing ever goes according to plan. Nobody is interested in watching a show where people decide to fix up their homes and then everything works out after a trip to Home Depot. Inevitably, the plumbing stops working, contractors go over budget, or there is a fear that the house won't be finished in time (the house is always finished on time). Much of this is engineered. Somehow there are always subway tiles.
We get sucked in because we want to see the big reveal when the homeowners open their eyes and see how nice their house looks after a crew of professionals have furiously sawed away for a few days. "We love it!" they say, and if you are watching, you consider if you love it too — if you'd love it if it were your house being remodeled or flipped or filled with subway tiles.
Photo: armchairbuilder
---
Support The Billfold
The Billfold continues to exist thanks to support from our readers. Help us continue to do our work by making a monthly pledge on Patreon or a one-time-only contribution through PayPal.