It's Heating Season In New York City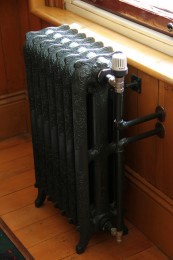 I spent all night freezing my ass off and debating whether I should get out of bed to put on a sweatshirt, which means it must be October in my rented apartment!
This one goes out to all my fellow renters who are wearing hats at the breakfast table and sipping on constant mugs of tea, wondering when your landlord will turn on the heat. The official rules, according the NYC Department of Housing, dictate that the heat should be on RIGHT NOW:
October 1st through May 31st is "Heat Season" in New York City. Building owners are also required to provide tenants with heat as follows:
– Between the hours of 6:00 AM and 10:00 PM, if the outside temperature falls below 55 degrees, the inside temperature is required to be at least 68 degrees Fahrenheit; and,
– Between the hours of 10:00 PM and 6:00 AM, if the temperature outside falls below 40 degrees, the inside temperature is required to be at least 55 degrees Fahrenheit.
The thermostat for our building is, rather inconveniently, in our living room so I know my landlord has not come in to turn on the heat. I don't know what I want less, though, to spend all day being cold in my apartment or to have to talk to my landlord for five minutes while he fiddles with the thermostat.
I thought the rules said heat started in November. Our building has an elderly woman with chronic bronchitis and our five-month-old, so it might be time to make some phone calls.
Photo via nzgabriel
---
Support The Billfold
The Billfold continues to exist thanks to support from our readers. Help us continue to do our work by making a monthly pledge on Patreon or a one-time-only contribution through PayPal.