Professor Dumpster Still Trying To Make Dumpster Happen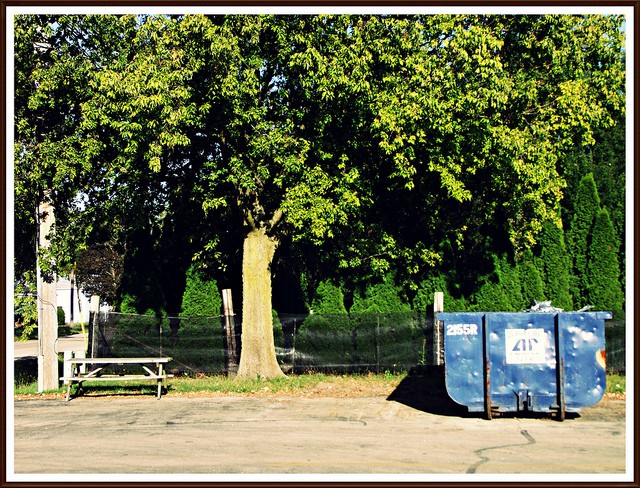 Remember Dumpster Dad, who decided, after his divorce, to move into a dumpster? And then wrote this unnerving "It Happened To Me" story for XOJane which included the detail that the dumpster was behind the women's dormitory at the university where he taught? (Seriously, were there no dumpsters behind the business school? Or the environmental studies program?)
Well, Dumpster Dad is back, and he's now been promoted to Professor Dumpster. The Atlantic has a lengthy feature on Professor Dumpster (aka Jeff Wilson), one of those sweet glossy features with animated GIFs and dumpster schematics, and here are a few of the updates on Professor Dumpster's life:
— People actually call Wilson "Professor Dumpster." I have no idea if this generated naturally or if it is Wilson's self-styled nickname (and BRAND). I do know that it is the name on Wilson's Instagram.
— When we last heard from Wilson, he was ABD — All But Dumpster. Yes, when he first announced himself on the dumpster-living scene he wasn't actually living full-time in the dumpster! He was just camping there sometimes. Now he's apparently in the dumpster nearly every night, except for the nights he trades off with students from Green Is the New Black, an ecology group.
— The dumpster is "sanctioned and supported" by Huston-Tillotson University, the East Austin university at which Professor Dumpster both teaches and serves as Dean of the University College.
— Professor Dumpster owns four pairs of pants, four shirts, and "eight or nine" bow ties.
— The dumpster has air conditioning.
— There is no mention of the woman that took up the last third of Wilson's XOJane piece, who — as a recap — met Wilson when he invited her on a blind date to explore Europe for 21 days and told her she couldn't pack anything.
— There's no mention of Wilson's daughter, either. Has her mother relented and allowed her to spend overnights in the dumpster with daddy?
— The dumpster is still "tucked behind the women's residence halls."
What do you think? Is the tiny house movement laudable, or is there something about this dumpster project that stinks? Take a minute to read the Atlantic profile, and then we can come back and discuss Professor Dumpster together.
Photo: Wayne Wilkinson (NOT a pic of Prof Dumpster's dumpster, please go to the Atlantic piece to see those pics)
---
Support The Billfold
The Billfold continues to exist thanks to support from our readers. Help us continue to do our work by making a monthly pledge on Patreon or a one-time-only contribution through PayPal.