New "Harry Potter" Content Released, Free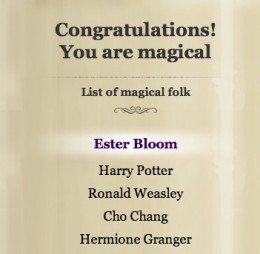 The good news is, as of today you can read a new short story about Harry Potter on Pottermore, the obsessive fan fiction site. The bad news is, you have to jump through a series of hoops as long as a Quidditch field to get there. (Sign up required.) The good news is, it's free! The bad news is, the story is written in the voice of Rita Skeeter. Here's a snippet from the Vulture write-up:
… [Harry] Potter took his young songs James and Albus to visit the players' compound, where he introduced them to Bulgarian Seeker Viktor Krum.
About to turn 34, there are a couple of threads of silver in the famous Auror's black hair, but he continues to wear the distinctive round glasses that some might say are better suited to a style-deficient twelve-year-old. The famous lightning scar has company: Potter is sporting a nasty cut over his right cheekbone. Requests for information as to its provenance merely produced the usual response from the Ministry of Magic: 'We do not comment on the top secret work of the Auror department, as we have told you no less than 514 times, Ms. Skeeter.'
I never bought that Harry would name one of his sons "Albus Severus," if only because it sounds godawful, and I wished Hermione would have stayed single, become some kind of holy terror of a lawyer and brought lots of suits against the Ministry of Magic while having hot sex with Victor Krum and maybe also Ginny on the side. But I am a bit skeptical about this story, even as I dive into it. From Scarlet to Cosette, these kinds of things have a foul track record, though at least this extension was written by the brilliant, kindhearted quadrillionaire JK Rowling herself, who could have charged money for even a little wispy bit of whatever thrown to her masses of fans and didn't. Bless her heart.
---
Support The Billfold
The Billfold continues to exist thanks to support from our readers. Help us continue to do our work by making a monthly pledge on Patreon or a one-time-only contribution through PayPal.