The Woman Behind #GIRLBOSS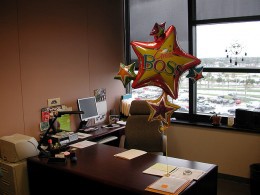 Nasty Gal's LA headquarters is a dog-friendly office with a yoga room and estrogen galore: According to NYMag's profile of CEO Sophia Amoruso on the Cut, "More than three-quarters of Nasty Gal's 300 employees … are women." Together, they are #LivingTheDream:
The space is an upgrade for Amoruso, whose online fashion retail business got its start in a rented pool house in 2006. Seven years later, Nasty Gal had picked up $49 million in funding from Index Ventures, a firm known for its e-commerce track record, and now the company is doing upwards of $100 million in annual sales and selling to customers in 150 countries. Within a year, it plans to open its first brick-and-mortar store in Los Angeles and expand from clothing and shoes into home goods. And in early May, Amoruso herself began infiltrating bookshelves with #GIRLBOSS, a hybrid business bible and memoir. The hashtag is part of the title. It was Amoruso's idea.
The profile describes Amoruso as an hipper, edgier, millennial answer to Sheryl Sandberg:
Whatever you think of Sandberg's corporate feminism, the misstep [her ridiculed "Ban Bossy" campaign] scooped out a wide-open spot for someone different to come along — someone without a billion dollars, a bulletproof résumé, a perfect husband, and a roster of friends in high places. The cover of Lean In shows Sandberg relaxed and radiant in a white sweater, chin resting on palm. #GIRLBOSS has Amoruso in a tight black dress and spiky necklace, fists balled against her hips. One of her eyebrows is arched, villainess style. She looks like a person with intimidating sexual preferences.
At 30, she is opinionated ("I think it's okay to call girls girls. And I think it's okay to call girls bossy"), self-made, and savvy: when she started selling vintage clothes on eBay, "she recruited models off MySpace, paid them in hamburgers, and analyzed their conversion rates to see which ones were most effective." Someday, she will be your daughter's college commencement speaker. In the meantime, she has plenty of professional wisdom to impart:
Don't ask for a promotion until you've held a job for a year; don't mistake your boss for a friend; fight the natural human impulse to consider yourself an exception; and never have your phone visible during a job interview. Don't compliment your interviewer's outfit, because "making small talk about what someone is wearing is just another form of unsolicited feedback." Spell-check your cover letters, for fuck's sake. These rules may seem rudimentary to anyone born before 1982, but they're aimed at millennial-specific bad manners. A #GIRLBOSS would never take a funeral selfie or wear pajamas on an airplane.
If there's one generational habit that galls Amoruso more than informality, it's entitlement. Even as a thief, she was diligent. "A lot of people in my generation don't seem to get that you have to work your way up," she writes. "I don't care if filing invoices is beneath you. If you don't do it, who do you think is going to? Your boss? Nope. That's why she hired you."
Sandberg is also a workaholic, though probably not a shoplifting hitchhiker with Tourette's who got fired once from a shoe store, and she would likely agree with all of that. Where they deviate, perhaps?
It's easy to get the sense, reading Lean In, that Sandberg is writing for women who've already made it. #GIRLBOSS is for those who haven't, which means it is aimed at people who have nothing to lose, which makes it a much riskier and more enjoyable manifesto. "Don't you dare alter your inner freak," Amoruso tells readers.
Of course, it's easier to be yourself when you work for yourself; still, good general advice.
Thanks for the tip, Katie (@readyornot)!
Photo via Bart Everson