How to Run an Indie Convention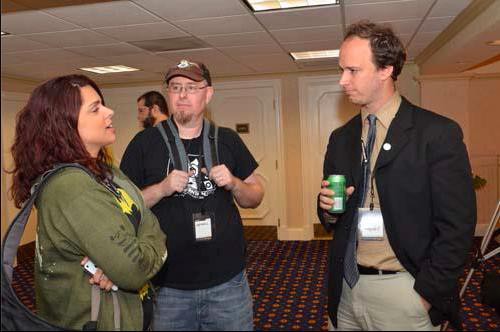 When I talked to Oni Hartstein two weeks ago about her car that wouldn't stop, she and I agreed it would be interesting to continue the conversation and talk about what's really keeping her up at night: running the indie convention Intervention, which will be held this year in Rockville, Maryland from August 22–24.
Intervention is different from other geek-themed conventions in that focuses on how to create awesome stuff. It's a bit like Maker Faire meets How To Network, with a few rock concerts thrown in. I've been part of Intervention every year since its launch in 2010, but I've never really talked to Oni about how she manages to run the show, year after year.
So that's exactly what we did.
Running an indie convention. What's on your to-do list for today?
So far, I've got:
Email last year's corporate sponsors.
Follow up on last year's sponsors who have already told me they want to be involved again this year.
Google key search words to find blogs and news sites to which I can send press releases.
Send press releases to at least 20 news outlets, so they'll (hopefully) cover us.
Draft a Facebook campaign that is segmented per type of attendee, create content to support that, buy those ads.
Look for more places to advertise.
Work on the website's blog; try to get interviews with thought leaders who will hopefully send us eyeballs.
Prepare and pack to go to Maryland for our staff BBQ tomorrow.
I owe many emails to my staff, so I have to go through and reply to all of those. These include major things like setting expectations for a possible game jam and ensuring that everything happens with the level of quality we usually have.
I also have to do work for my day job on top of all that.
There's probably more.
Intervention is eight weeks out. What percentage of "ready to go" would you say you are, right now?
We could run the event tomorrow. That's solid. The biggest challenge is getting the word out when you are a crowdfunded event that is focused on real people and not Big Hollywood.
Oh, that's really cool. You have one of the most awesome staff teams that I've seen at a con, btw. And most of them have been with the con for the entire five years, yes?
I'd say we have approximately a 95% retention rate. The ones that turn over generally turn over due to life circumstances such as illness. We keep the light on for them. From the top down we try and operate like a welcoming family.
From what I understand you've had a long term vision for Intervention. Like, you planned for five years of growth and you're planning for the next five years of growth. Is that true?
Very true. Most events of our scope have at least $100,000 in seed money. We had a fraction of that so I knew we had to go all in and that results would not be quick. Actually we had just my credit card and donations from the nice people who read my blog.
How has Intervention's growth followed (and not followed) the plan? What surprised you?
What I have learned (and kind of knew already) is that after a certain point money is necessary for growth. If you don't have a lot to invest in Media Buys you'll iterate higher each year by word of mouth from by between 15–35%.
In our first year I was pitching and pitching media and some of the ones I couldn't penetrate, well, I found out that friends of mine who managed to get that exposure were just buying it.
Luckily there's also opportunity for organic growth without investment money for Media Buys. The good part about this type of growth is that the word gets spread through people who believe in the concept. Returning attendees, fans, etc.
Since I knew we'd have to work harder on organic growth and less on Media Buy growth, I definitely knew we were going to have to plan in five-year blocks. That's in alignment with the growth of other similarly budgeted events in our geographic location. Generally you see those other conventions hit milestones in their 5th and 10th years.
Intervention's growth is just about where I expected it. We took a small deviation off of that path when we had other events move opposite us and had to move our dates last year. That's another unpredictable variable that always hits your attendance, but we managed to backfill the people we lost due to the move with new people. We actually still grew. I didn't expect that. I am hoping that it will level out and those who couldn't come last year can rejoin us this year.
EXCELLENT.
Most excellent! I am ready to Party On.
You're really open that Intervention is funded in part out of your pocket. What prompted that choice?
I really didn't have any other choice but to fund it myself. By "myself" I mean both me and my husband James Harknell, since we are funding Intervention together. Harknell and I are actually co-owners, but we've been solidly married for over 10 years. It's very rare when we have a difference of opinion at this point.
We considered taking out small business loans but that didn't work. We believed strongly that this was needed in the world, and since I had just turned 30, we knew if we didn't do it now it might not ever happen.
We considered taking investment money from friends, but my hangup is that I am always shy about asking other people for things. I have also watched many conventions self-destruct over drama that occurs when there's more than one entity who has a say over the management.
Intervention is here primarily for the attendees and will never be about ego.
I know that I and Harknell are capable of being egalitarian even at our own expense so we wanted to retain control over the vision specifically to keep the atmosphere on target with what it should be. That's why we have such a non-existent level of drama. I'm really good at managing and motivating people. Harknell is really great at websites, budget, and event operators. We balance each other out.
We actually broke even in our second year minus our initial loss in 2010. One thing that people don't necessarily know is that at an event like ours guest speakers really matter. The "big" ones generally cost anywhere from $10,000 to $75,000 for one hour of programming.
That wasn't a typo.
Each year we've been OK with investing slightly more personally to try and get more varied guest speakers in. That always takes us over the "break even" point. So if we just let the con lay flat each year we wouldn't lose anything, but we probably would grow much slower and attendees would notice a drop in event quality.
We actually keep the attendance and vendor table prices low intentionally. Many events get most of their money from this, but in order to be accessible to everyone we had to keep it lower. We "should" switch to a model where we double the table costs and charge a few hundred dollars per person for entry, but that would destroy what our event is about. Notice I put "should" in quotes.
Again, I am OK to shoulder this until we grow to the point where this becomes a non-issue. The concept is more important to me than my own life.
What do people not know about running a convention?
Most people probably don't know that after you are established you really need another financial boost to reach critical mass. Especially if you do it the hard altruistic way like we did.
And of course, the big question: Why should people come to Intervention this year?
The general public should come to Intervention because it's the only place where you can see such a variety of art, comics, live podcasts, video game cabinets, and things being made right before your eyes. The guest speakers are friendly and accessible. It's the quirkiest art festival and gaming convention ever. If you attend as a fan this year you may be able to show off your creativity the following year.
We also have the best Children's Program I have ever seen. The Guest Speakers even come over there to share their knowledge and inspire the little ones.
Creative people should come here because the atmosphere, collaboration, and networking is unsurpassed. Many are professionals, but even if you aren't you will be accepted with open arms. If you aren't a pro, just attend the programming and get the tools you need to be one right from the people already doing it.
We aren't about elitism — we are about everyone. Many other events use our guest list and attendees to choose their guests because we are a well-respected and trusted place. We aren't called The Premier Showcase of Online Creativity for nothing. More than a few people credit Intervention with launching their creative careers.
We also provide collaboration space for artists of all types. For example, it is not uncommon to see a band recording an entire album of music in one area while a person dressed as a zombie runs by, chased by a person dressed as a giant bacon. Anything goes. We like it that way.
Photo: Intervention
---
Support The Billfold
The Billfold continues to exist thanks to support from our readers. Help us continue to do our work by making a monthly pledge on Patreon or a one-time-only contribution through PayPal.