Flight Delayed? Get That Money (Or 75% of It)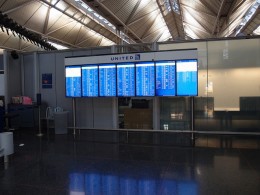 When an airline bumps us from a flight or delays us for hours on end, most of us accept our meager meal vouchers and swallow our pride. A bold few might actually file a claim for compensation, but when an airline either fails to answer the claim or rejects it outright, those passengers usually give up, too.
Not Henrik Zillmer. When Zillmer had airline trouble a few years back, he "didn't take no for an answer." Instead, he pored over national and international flight regulations and scoured legal judgments against the airlines. What he found was that, in most cases, passengers who take their meal vouchers and walk away may actually be legally entitled to hundreds of dollars in compensation from the airlines. He crunched publicly available data on the number of delayed flights and the number of passengers per flight, and discovered that airlines collectively owe compensation to some 26 million passengers every year. The problem is that they're only paying about 0.06 percent of what they owe.
Henrik Zillmer has started a company to get you some money back from all those damn delayed flights. Or wait. Henrik Zillmer has started a company to get itself 25% of the money it gets you back. Capitalizing on our airline rage! Possibly brilliant. How it works: if your flight has been delayed for reasons other than weather or security, Airhelp will file a claim on your behalf and then take the airline to court if they reject the complaint. And they usually win. With 20,000 customers already, they've won millions of dollars in airline compensation.
To get yourself (and Airhelp) justly compensated, you'll need a copy of your boarding pass, and then you'll need to print, sign, and mail a power of attorney so that Airhelp can work on your behalf. Having to print something is usually a dealbreaker for me, but some of you may have your lives more together, or you know, be more willing to print things out in the name of justice.
Apparently AirHelp is part of a larger trend of startups working under the "get you a refund and then take half of it" business model:
That might sound a bit self-serving, but AirHelp is one of a growing number of startups building businesses that help fight consumer battles. Fixed, a San Francisco-based startup, will fight to get your parking ticket dismissed and charge 25 percent of the fine if you win. Another startup, 71lbs, helps consumers get FedEX and UPS refunds if their packages are late and takes a 50 percent cut of the money won. "You could say it's a logical next step in the whole empowerment of consumers. With social media, they could harm a brand," says Michaelsen. "Now, they're actually able to assert their rights and not just on a brand level."
Taking 50% seems like a LOT to me, but if you weren't going to fight the good fight on your own anyway maybe it's worth it.
Photo: leyink
---
Support The Billfold
The Billfold continues to exist thanks to support from our readers. Help us continue to do our work by making a monthly pledge on Patreon or a one-time-only contribution through PayPal.