How Much Should You Tip for Office Food Deliveries?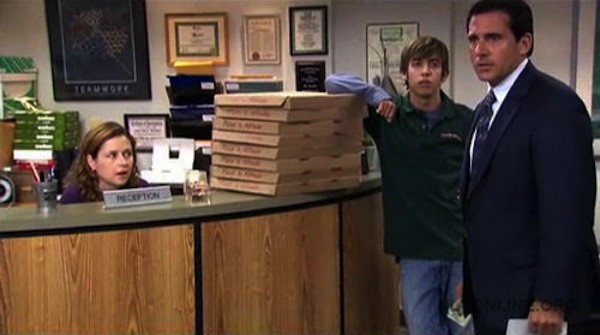 I know this has been covered to death, but I have a question about institutional tipping. I'm lucky enough to work for a company that sees fit to provide its employees with a variety of free food — lunches, breakfasts, snacks, etc. As the operations manager, I oversee a lot of the ordering and logistics of delivery to our offices. I inherited our current tipping policy from my predecessor, but I am wondering if we are being stingy (or overly generous). Our company has the resources to tip properly, but I also don't want to waste money.
Here is our policy: We tip a flat $10 for team lunch delivery — this means whether someone is delivering two pizzas for a group of six, or fifteen sushi bento boxes from a fancy restaurant, we will give them $10 for driving to our office and dropping food off (we also validate their parking). Our other big expense is a weekly catered lunch for the whole office. This comes out to about $3,200 per meal based on our headcount. Our policy here is to add on a flat $100 tip for their assistance in setting up the meal (my team also handles a lot of this internally). I'd love some insight into whether we should reevaluate these policies. — R.

I talked to the office manager at an office I used to work at and she told me that her policy was to tip 10 to 15 percent of the total bill for catered lunches, with a minimum of $10. She said that the bills were never higher than $300, which meant the tip was never higher than $40, and added that for some large orders, the restaurant added a tip and delivery surcharge in advance (also about 10 to 15 percent).
Other sites offering business advice also suggest 10–15 percent: "For delivery orders of $20.00 or less, it is customary to offer a minimum tip of $3.00. For any amount over $20.00 tip 10–15% but never less than $5.00." This also falls in line with Emily Post's general tipping guidelines for restaurant deliveries.
How about the rest of you? Have you ever been in charge of tipping for office deliveries? What were your policies?
---
Support The Billfold
The Billfold continues to exist thanks to support from our readers. Help us continue to do our work by making a monthly pledge on Patreon or a one-time-only contribution through PayPal.