For Cosmo, Feminism is Good Business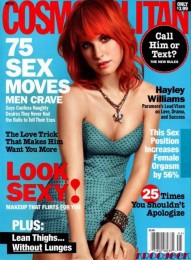 Feminist Twitter is unusually happy today. Cosmopolitan Magazine, better known for "15 Tips To Blow His Mind" and "Chic Swimwear" than for breaking news, has hired journalist Jill Filipovic as part of their effort to expand their more serious coverage of women's issues. And it makes good business sense too!
Cosmopolitan.com editor Amy Odell said she has made it a priority to expand her website's coverage of political issues affecting its readership since she arrived from Buzzfeed last September; the editorial strategy certainly hasn't hurt Cosmopolitan.com's traffic, which, according to internal metrics supplied by Cosmopolitan.com nearly doubled from 13 million unique visitors in August to more than 25 million in March.
"I think it's really important talking to an audience of millennial women to find a way to get them to connect to these issues that are sadly so prevalent in our country today and around the world," Odell said.
Will Filipovic be offering a more critical lens through which to look at Cosmo's patented donut-on-the-penis trick? Not likely:
In the coming months, Filipovic said she will focus her coverage on the outcomes of restrictions on reproductive rights in the U.S. and abroad, the contraceptive mandate of the Affordable Care Act, and the U.S. midterm elections.
"I think that maybe on its face it can seem like a slightly unorthodox move, but … women's magazines have a really interesting tradition of publishing some great, often overlooked content about women's health and politics." Cosmopolitan.com presents, she added, "the opportunity to reach an enormous and already engaged readership that maybe wouldn't be seeking out my work otherwise."
It sounds like a win-win. Good for Cosmo for not being afraid to grow and change. Altering a proven formula is always hard. Obviously, success helps: this well-written essay, My Life as an Invisible Queer, doesn't seem like something that could have run in the magazine even five years ago, and yet it has been shared almost 15,000 times in the past couple of weeks. Three cheers for the new increasingly queer-and-feminist-friendly Cosmo! May you go from strength to strength.
---
Support The Billfold
The Billfold continues to exist thanks to support from our readers. Help us continue to do our work by making a monthly pledge on Patreon or a one-time-only contribution through PayPal.