Citywide Blight Due to Shady Donation Boxes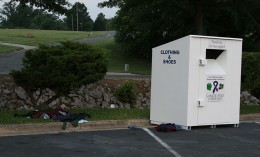 Have you ever seen or used one of those donation boxes placed in parking lots used to collect donated clothing, books, and shoes? Sam Levin reports at the East Bay Express that the boxes are often ill-maintained and usually run by for-profit businesses:
"As a practical matter, it's next to impossible to keep these boxes cleaned up," said Oakland City Council President Pat Kernighan. "They are creating a problem that doesn't seem easily solved."
Opponents of the bins also argue that they divert donations away from East Bay charities that recirculate items locally and use their revenue to fund jobs and important social service programs. The out-of-town businesses that operate the donation boxes are instead typically driven by profits and generally sell donated clothing to wholesale buyers, thrift store chains, and textile recyclers. That means materials can be shipped across the country and overseas, which is less environmentally efficient than local reuse. And to some, the bin operators are clearly using misleading marketing tactics to collect clothes from residents who likely don't realize they are giving their goods to non-local, for-profit businesses, instead of local charities that need these donations.
A spokesperson for Goodwill Industries of the Greater East Bay says it has seen a 5 to 10 percent decrease in donations since the bins have proliferated: "That makes a significant impact on what we can provide in the community to folks in need."
So if you are able to donate your unwanted goods directly to the Salvation Army, that's the way to go.
Photo: Wikimedia Commons
---
Support The Billfold
The Billfold continues to exist thanks to support from our readers. Help us continue to do our work by making a monthly pledge on Patreon or a one-time-only contribution through PayPal.