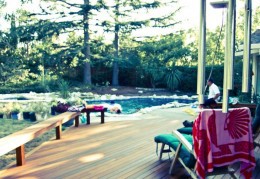 The Wall Street Journal's Katy McLaughlin wrote her final column about money this weekend, and her takeaway is something we always talk about here: What we learn from each other when we talk about our money.
Time and again, responses to the column revealed a split between people in their 20s to 50s and those in their 60s to 90s. Many older readers couldn't get their heads around the amount of money we spend on our kids' activities and the energy we put into taking care of their needs. Maybe it's generational, or maybe it just takes the distance of a few years to realize parenting isn't quite the crucible we make it out to be. Either way, that message of "spend less, worry less, interfere less" came through clearly. I'm working on it.
I wrote several columns that talked of my anxiety about spending money. One discussed my husband's habit of buying our kids spontaneous gifts and my fear that this will spoil them. Another described my hand-wringing about paying someone to clean our house. In talking about these things, I feared being slammed for being overprivileged, which at times I was. But for the most part, readers consistently reminded me to quit fretting and concentrate on balance: For example, lots of readers advised me to allow Alejandro to surprise the kids with gifts while they were still small enough to be amazed and delighted. Two years later, with my boys just a bit older and less wide-eyed, I realize those readers — and Alejandro — were right.
Godspeed, Katy McLaughlin. You're always welcome to talk about your money here.
Photo: Jared Wong
---
Support The Billfold
The Billfold continues to exist thanks to support from our readers. Help us continue to do our work by making a monthly pledge on Patreon or a one-time-only contribution through PayPal.