Music I Listened to While Working as a Temp
by Julia Lipscomb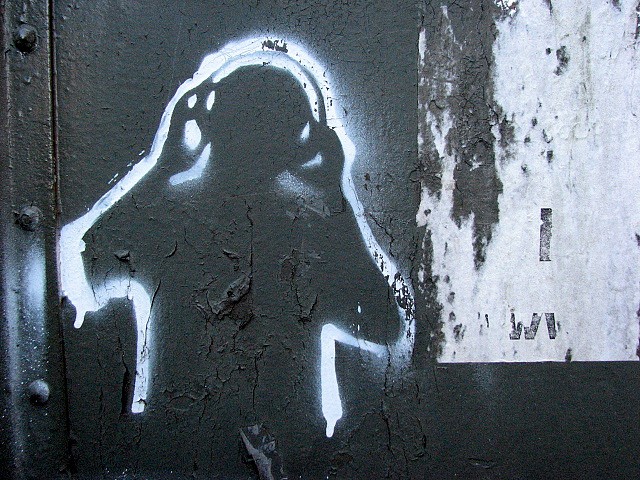 Job: Canvasser (Let me start this zine by sayin' the economy was bad, ok?!)
Duration: 1.5 weeks
Things I got away with: I made "staff" and raised over $120 for Planned Parenthood Action Fund on my first day.
Caveat: My coworker admitted his life struggle with heroin, and watching him relapse in the short time I worked there wasn't pretty.
Most profound listening experience: Every morning, I would sleep in until 11 a.m. because I worked swing shift. Being that I was in Seattle in March, it would still be dark and cloudy at that late hour. My commute was a slow, degrading walk down Pike/Pine Corridor to the train depot. It was always overcast, and sometimes it rained early in the day. I had Tegan & Sara's The Con on repeat during my commute, which fits perfectly with heartbreak and lack of Vitamin D.
Job: Admin Assistant for Correct Service Inc, my dad's audiology consulting business (and rad daughter)
Duration: Five months, less than 15 hours per week
Things I got away with: My dad's office was at home, so FREE FOOD.
Caveat: Driving one hour north of Seattle to home.
Most profound listening experience: Working basic filing and organizing tasks for my family in the home I grew up in came with a flood of awkward teen angst feelings that I shouldn't have experienced as a 20-something-year-old. When my dad would give me a project, I would put in my earphones and tune out. Dad grew up in Nebraska during the Great Depression, and he always believed that you had to work hard to get what you want. I worked for the family business when I was having a bout of unemployment. If it wasn't for this work, I wouldn't have been able to work my serial unpaid internships and live a self-entitled lifestyle in downtown Seattle. Thanks, Dad! I learned real work ethic later, I promise!
Job: Development Intern for Experience Music Project
Duration: Four months
Things I got away with: After I left the internship, I stayed in contact with the curators of the museum archives. I set up a tour for librarian and archiving consultants at Zine Archive & Publishing Project (AKA — all my friends) to see the archives. The experience was remarkable to say the least.
Caveat: It was cool working for a museum, but I sure as hell didn't know what I was doing.
Most profound listening experience: Full disclosure, this was an unpaid internship. Any internships are great when you're in high school or college, but when you are looking for your first entry-level job simultaneously, you get easily distracted. I was going through a lot of anxiety, also quite a bit of nostalgia for my college days. This is why I was listening to a lot of college music, like The Academy Is… and my coworker and friend rightfully made fun of me.
Job: Cashier for Disney's production of Mary Poppins
Duration: Two hours
Things I got away with: Not studying their gross (pun intended?) product merchandise.
Caveat: Getting into a huge argument with temp agency recruiter about double-booking me with four other candidates. In retrospect, it was probably more the fault of Disney than the agency. Ross Perlin, in an exposé of Disneyworld in Intern Nation, wrote that the company would frequently assign too many interns and employees than what was needed for a position.
Most profound listening experience: After the argument with that awful, nasty recruiter who had no respect for her clients, I went on a run. At the time, I was running frequently around Capitol Hill and Volunteer Park. If I was feeling nondescript, I would start my playlist with Massive Attack. But whenever I went on an angry run, however, it was Garbage — always angry, raw, awesome and rockin' Garbage.
Job: Zine teacher
Duration: Three months (one summer) plus two gigs in the fall
Things I got away with: Doing what I love!
Caveat: Zine workshop gigs where I was co-teaching were more difficult because teachers who teach in the same classroom rarely share the same goal. (See: City Year). It was a huge learning experience for me.
Most profound listening experience: I remember that was the same summer that I saw Baths at Capitol Hill Block Party. I started listening to Baths when I was alone in the zine archive putting together my curriculum. Baths is an electronic artist from L.A. The tracks off Cerulean ooze like liquid filling your veins and making you move, lost in your own unintelligible trance. This is what I listened to when I was feeling creative but I may have been having difficulty in developing synergy with co-workers.
Job: Sales Associate for Eddie Bauer
Duration: Six months
Things I got away with: It was a 5–10 minute walk (or run) from my apartment! This was also my favorite job.
Caveat: Gradually losing more and more work hours after the holiday season.
Most profound listening experience: During overnight floor sets, the staff would have the option of listening to their iPods while working on a project. My boss would also bring a portable stereo and hook it up to a Pandora station. At the time, I was listening to a lot of M83 on my quick walks to work. Sometimes I would have more fun listening to the stereo, which was usually tuned to '90s rock and Red Hot Chili Peppers, with the other workers. I can't listen to '90s rock with most people, but my coworkers at Eddie Bauer were laid-back and genuinely awesome, so the music was just background noise for our conversations.
Job: Development Assistant with KEXP
Duration: Five months
Things I got away with: Free CDs at the annual volunteer appreciation party. Free Americanos. Learning how to make Americanos. Free concerts. Access to live in-studio sessions with my favorite bands.
Caveat: I was let go for my lack of punctuality. (What, I was 23!! And it was an unpaid internship, c'mon!)
Most profound listening experience: My hours were usually in the afternoon, but there was one day when I was working until 7 or 8 p.m. to get the "Vault" organized for an upcoming event. I remember it was after daylight savings time, so it was getting dark early. I was exhausted and drained after working a full shift at Eddie Bauer folding clothes and then my project at KEXP that day was folding T-shirts. The first half hour felt miserable until I discovered the volume control in the hallway outside the Vault. Once I turned up the music, the show that was playing turned my disposition around. There was a guest DJ who was playing a lot of electro pop, including M83's addictive hit "Midnight City." The first time I heard this song was magic. It later defined a vivid period of my life in Seattle.
Job: Warehouse worker
Duration: Three excruciatingly long months
Things I got away with: 20-minute paid breaks, 70-minute lunch hours, and the occasional nap time. Also, I was the token flirty white girl.
Caveat: Working 10 hours a day scanning items over and over in a cold warehouse
Most profound listening experience: The stereo by my supervisor's station was always blasting the Kube 93.3. I don't think I can disassociate "Sexy As I Know It" with working in a warehouse with over twenty men, and I heard "Moves like Jagger" more times than is healthy for a punk rocker.
We were allowed and highly encouraged to listen to music on our portable devises so long as we kept one ear bud free. The "one ear bud free" rule served to maintain a decent level of social awareness and knowing when to run out of the way of a forklift. As you can imagine working 10 hours a day doing the same task over and over, I listened to everything on my iPod. Most notably I was going through a heavy Nada Surf phase. Every day, I would begin my commute with "Blizzard of 77" off Let Go, a sad homage to resigning myself to another 10-hour work day. As soon as I got off work, however, it was "Hi-Speed Soul" that would get me home, excited for the next road.
Job: Chapter Assistant at Pacific Northwest Recording Academy
Duration: Two weeks
Things I got away with: Saying that I work for the GRAMMY's!
Caveat: I was struggling with a stutter at the time and was unable to pronounce the word "recording." This may have been the reason why I was let go early, but that's neither here nor there.
Most profound listening experience: My coworker turned the Pandora station to Grimes, whom I was just discovering at the time. The vocal harmonies and electronic dissonance of Grimes made me feel comfortable enough to calm my anxiety and be more productive. The first time I heard Grimes was back at the KEXP studio, maybe one week before I left my internship. The station played "Vowel = Space + Time." In fact, I didn't stutter once for the next 24 hours! It was a miracle song.
Job: Mail Clerk for nonprofit medical office
Duration: Two weeks
Things I got away with: Scheduling multiple job interviews on my breaks (including my phone interview with City Year Greater Philadelphia). My supervisor was fantastic and very understanding of my situation. She was rooting for me all along, and it was great that I was able to thank her and tell her that I was committing to an Americorps program on my last day. Also, free coffee!
Caveat: The work itself. Even Dishwasher Pete of the infamous Dishwasher zine admits that mail clerk is the worst occupation ever, even after dishwashing and prostitution.
Most profound listening experience: I have to admit that I was suffering from Seasonal Affective Disorder at the time. It was in the middle of summer, but for some reason that summer wasn't kind to me. I was also starting to get tired with Seattle and the whole temping career. When I heard Lost Lander's "Afraid of Summer" on KEXP, the beautiful yet saddening acoustic song by the Portland band was exactly what I was feeling. I would listen to it on repeat while performing the menial tasks of the worst job in the history of jobs. Needless to say, it made my decision to move to Philadelphia easier.
Job: Warehouse worker (again!)
Duration: Two long days (one last temp job before the big move!)
Things I got away with: 20-minute paid breaks, 40-minute lunch breaks, and chalking it up to getting lost in the catacombs of the warehouse whenever my immediate supervisor questioned me.
Caveat: getting lost in the catacombs of the warehouse. On one such occasion, I found myself face-to-face with the most horrifying sight I had ever seen in my short history with unfavorable labor: a real sweat shop.
Most profound listening experience: This was my first work experience having control over a stereo that multiple workers listened to. I turned the station to KEXP and there were no oppositions. At least not from that immediate supervisor. While I was working the temp job, I didn't understand why he would never say anything when I blatantly rebelled, until after the assignment was over and he asked for my number.
I remember this Nada Surf song played on KEXP while I was working:
Job: City Year Corps Member
Duration: One long school year
Things I got away with: flirting with my boyfriend (who also served in City Year) at professional development events. My program manager loved "City Year couples."
Caveat: working 50+ hours per week. Getting yelled at by 14-year-olds
Most profound listening experience: Every morning on my first bus to school, I'd listen to LCD Soundsystem. Corps members are actually prohibited from listening to portable music devices while on hours and in uniform. I'd sneak-listen on my first bus and quickly take off my ear buds when I transferred. (Both of my superiors commuted on my second bus). Nearly everyone I knew in Seattle listened to LCD Soundsystem, but I wasn't obsessed with it until after I moved to Philadelphia.
Seattle is a very literate city, so it makes sense that everyone was influenced by LCD. In Seattle, you're surrounded by English majors, MFA writing candidates, librarians, UW library students, zine writers, comic artists, and writers who write genres that haven't even been invented yet. Being exposed to so much writing on the daily is enough to make one critical of every single word. I can't say that Philadelphia was the opposite … but I can't dissociate my experience in the program from hearing Kendrick Lamar's "Swimming Pools" as a drinking song with no concept of irony every Friday night. (I love Kendrick Lamar now, but I had to take the listening experience out of a partyin' context to fully appreciate him). In a world where everyone from the students to the corps members to my bosses were singing all the words to Top 40 music and gangsta rap, James Murphy reminded me of home.
What a juxtaposition, huh?
Job: Barista at small Caribbean cafe in Bushwick, Brooklyn
Duration: Three months
Things I got away with: street cred, Bushwick cred, hipster cred, art school cred, hood cred, barista cred, latte art cred, ALL THE CREDS
Caveat: I'm pretty sure my manager was a criminal on the run. This was a café in the HOOD.
Most profound listening experience: There was always at least one hour of my shift where I worked by myself and thus had full control of the stereo.
There was one song that I played every shift, it was that new hit "Elevate" by St. Lucia. After all of the temp jobs and unpaid internships it took for me to get to the point where I was managing a business, even for an hour, I found the song comforting and uplifting. There was no going back. No one is going to take me to where I need to go but me.
Julia Lipscomb is still looking for a job.
Disclaimer: The opinions and stories of the author do not reflect those of the businesses mentioned. The author has high esteem for the employers mentioned for giving her opportunities to grow, learn, mature, and figure things out.
Photo: Todd
---
Support The Billfold
The Billfold continues to exist thanks to support from our readers. Help us continue to do our work by making a monthly pledge on Patreon or a one-time-only contribution through PayPal.