How the Best Hoodie Gets Made in the U.S.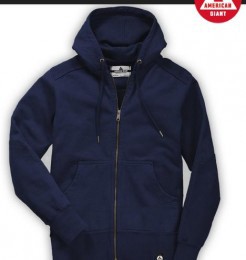 Have you heard about American's best hoodie? It's made by a company named American Giant, and has been lauded in the past few months by places like Bloomberg, Slate, and now Wired, which recently examined the design process behind the hoodie. It's made entirely in the U.S. — the cotton is picked here, and then processed and knitted by American workers. For American Giant, it's all in the details:
Winthrop says the company looks to unnoticeable design details — things like double needle stitching, a calculatedly-stretchy cuff, reinforced fabric at the elbows, shoulder and torso panels — to set their products apart from that of other apparel companies. It's the small things, like the way a garment fits you around your wrist or how closely-cut the shoulder and waist silhouettes are, that denote quality.
If you look closely, you'll notice a necktie-looking patch that runs up from the wrist through the elbows. This is a reinforcement measure, explains Winthrop. "The chevron elbow patch was developed to add durability to the full zip," he says. "The back of the forearms are subject to a lot of wear and tear when doing physical work, and we wanted to make sure our full zip held up to that."
Reinforced fabric at the elbows! Raise your hand if you've gotten professorial-like holes in the elbow-area of your jackets and hoodies and have had to get them patched up. The cost of a sweatshirt runs from $69-$89, which sounds like a pretty good price for something considered "the best."