'Hispanic Appalachia'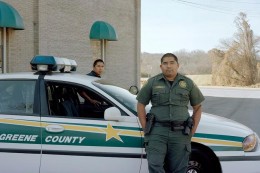 Megan King: Probably what surprises most people who look at this work, which is how much of a presence the Hispanic community has in Northeast Tennessee, and how it still goes unnoticed. For a long time the common media portrayal of Hispanic communities, in East Tennessee especially, was that of migrant workers, who still exist here, but there is an increasing amount of settled families now. That is what this project is about in many ways. These are people who live and work here and are becoming an integral part of Southern Appalachia.
The day I was making the image of Frank and Eddie, the story goes that a call came in to the station — which we were in front of — from someone driving by, reporting that there were two Mexicans trying to steal a cop car. How they missed the girl with the 4×5 camera and dark cloth, I'll never understand.
From The Morning News, a terrific photo series by Megan King about the fast-growing Hispanic population in her native Tennessee.
Photo of Frank and Eddie by Megan King