Four Ladies Went to Atlantic City and This is What They Spent
by Meghan Nesmith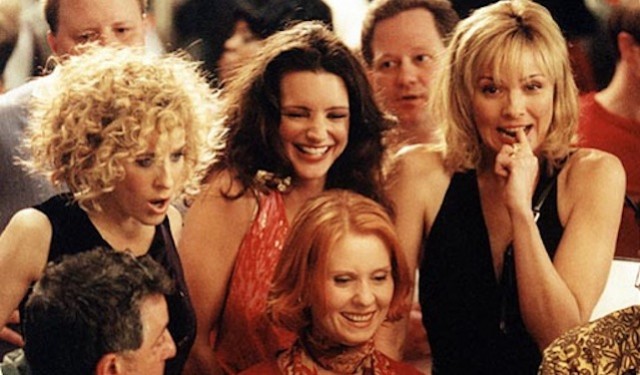 -$27: Round-trip bus ticket (per person) from New York to Atlantic City. It's unclear how we ended up on this bus. We have never gambled. We have an unspoken three drink maximum and a communal bedtime of 11:00 p.m. I think it might have been my idea. I think maybe I'd seen that episode of Sex and the City too many times, where Charlotte worries about being an old maid and Samantha gets that pearl thong from Richard and Carrie eats saltwater taffy on the boardwalk, and I think maybe it felt sort of old school and romantic. At any rate, now we're on the near-empty bus with an extremely punctual driver and a bag of Utz party mix ($0.99). We read a beginner's guide to gambling aloud from an iPhone. We nap and wake with the brittle winter wetlands around us and beyond, several mystifyingly large casinos shimmering at the edge of the ocean.
+$15.50: We are still arguing about this. As you're shuffled off the bus you're handed a $25 certificate for the slots. An older man says loudly, "I can do WHATEVER I want with this," before handing it to our group, making our total $100. We exchange the coupons for plastic cards with our names embossed on them and then I find the "Kitty Glitter" slot machine (because obviously), and we spend the next 25 minutes shoving the cards in, pulling them out, pressing buttons and getting increasingly agitated. There are no handles to pull. The machines make a fake coin noise. Did you know this? It's all a computer. The computers are taking over! Eventually an older man in a red vest named Steve comes over and attempts to teach us how to play. "You really are green," he mutters, before giving up and cashing us out. We made a total of $15.50, but it's unclear if that actually means we won because we have less than the $100 we started with, but we never actually had that money anyway and this argument is ongoing. Let me know what you guys think.
-$9.99: The sun is out. We drink a bottle of champagne on the beach. One of us puts her toes in the Atlantic for the first time.
-$82: That's how much our actually lovely ocean-view room with two queen beds at the Revel casino cost. Later we discover the Revel recently filed for bankruptcy. The hotel is obscenely large and has a giant golf ball on the roof. We swim in the outdoor pool and share a plate of nachos ($12) at the indoor taco truck. We get lost approximately 27 times.
-$188 (divided by four, tip included): We put on heels and make the executive decision never to leave the hotel again. Dinner is tapas and sangria at a restaurant that backs on to the casino. We watch girls with penis straws tumble by and talk about the state of the New York public school system.
+$9: I insert a dollar and win $10 on my first spin at a slot machine. Much rejoicing. I cash out immediately.
+$100 (kinda): A tiny girl in a crop top offers us free admission to Royal Jelly, the "burlesque" nightclub at the Revel. While standing in line we watch a guy bet $5,000 at a blackjack table. The club is weirdly well lit. I've never seen people look so chronically disinterested in each other while attempting to seem like they actually give a shit. It's sad. No one offers to buy us a drink. We dance in a circle. We leave.
-$30: To clarify: this is not "lost" money, but rather "spent" in our efforts to have a True Atlantic City Experience: two buy-ins at a $15 blackjack table. The guys at the table are far more interested in winning money than they are in hitting on us, which is great, and they take their time explaining the rules. The dealer looks genuinely sad when my friend loses both hands. "I really tried," she says, and she means it.
-$51: Breakfast for four at the local greasy spoon. We sleep well, waking only when some dudes scream outside our door: "Get in my face! You get in it! No, get out of it! Get outta my face!" We watch early morning surfers from our window, black wetsuits bobbing like ill-conceived seabirds in the timid blue of the Atlantic. We're charged a $7 resort fee upon checkout we don't bother disputing. The boardwalk is quiet and we are the only ones in the diner, but the bus back to the city is packed. The woman beside me reads a psychology journal through her Jil Sander glasses. At the back of the bus, girls shout at each other across the aisle. "I think I was a golden retriever in a past life," one of them says, and they all laugh and laugh, even though it's clear no one knows why.
Grand total: Net loss for four people of -$363.48. Ish.
Meghan Nesmith writes and sleeps in Brooklyn.