Figuring Out Finances After a Divorce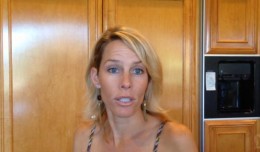 The L.A. Times tells the story of a 40-year-old woman named Adina Jones who put her career on hiatus in 2006 to be a stay-at-home mom, and who is now figuring out how to re-enter the workforce after divorcing her husband. She is currently working at Starbucks for $10 an hour part-time while earning a teaching credential.
Student loans form the bulk of Jones' roughly $95,000 debt, which also includes $6,000 in credit card bills, amassed primarily during the year she and her husband were separated before their October 2013 divorce.
On the plus side, Jones is keeping expenses down by moving into her mother's Orange County home with her three girls, ages 12, 10 and 6.
Field [a financial planner] said Jones has to reduce her monthly expenditures an additional 25% to 30% "until she can get a better-paying job." One reason for the strict budget approach is that Jones needs to pay down a car loan more quickly than the contract requires in order to reduce the size of a $9,000 balloon payment she faces.
Jones has begun to build her negligible savings, with an eye toward establishing an emergency fund to cover three months' worth of expenses. And she has been able to make small contributions to Starbucks' matching 401(k) retirement plan.
Jones receives some alimony and child support, but wants to rebuild her career and savings.
Sandra Field, the fee-only financial planner in the story, says Jones should focus on getting her teaching credential so she can also get a better paying job, rather than what she's doing now in the short-term (Jones was excited about the possibility of being put on the management track at Starbucks by becoming a shift supervisor). Field also pointed out that Jones is "entitled under California law to half of the retirement assets that her ex-husband accumulated during their marriage," which Jones was unaware of because she didn't have legal representation during the divorce.
The takeaway: If you are in a relationship and aren't earning an income, have a plan in case your partner loses her/his job, becomes ill and unable to work, or in case the relationship simply does not work out. Also, have legal representation during divorce proceedings.