Are Cosmetic Subscription Services Worth It?
by Heather Struck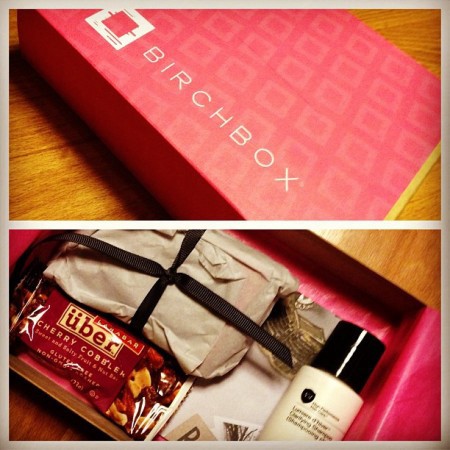 When I was 15, I stood on the tile in my mom's bathroom and let her glue false eyelashes onto my eyelids. I was going to a middle school dance.
When I was younger than that, I have memories of watching my grandmother apply lipstick to her cheekbones and blend it with her fingers. Her glasses were tinted slightly pink, and she said the lipstick helped to match her complexion. I had a shred of knowledge at the time that this was a bizarre way to wear makeup.
But when my first Birchbox package arrived — a monthly parcel from a New York-based startup that encloses surprise samples of designer cosmetic products at the cost of $10 per month — I could make no discernable connection to cosmetics in my past.
Why is this? I wear makeup. I grew up in a suburb in Southern California, and I had a subscription to a modern young woman's magazine. I just could not remember any real emotional attachment to anything that I could put on my face, hair or body. The products were cold to me — not literally, but figuratively empty. The memories I have of my mom and grandma are not connected to any particular product, but to their love for me. But then, should anyone have an emotional attachment to cosmetics?
A questionnaire that I filled out when I subscribed to Birchbox asked me to identify my proficiency-level with makeup. Am I low maintenance or trendy? My poor abilities with using makeup suggest that I am on the lower side of the maintenance scale, but am I not also, in paying $120 per year to have sample-size beauty products sent to me, saying that I want to be more trendy? I only very recently learned from my 16-year-old cousin how to apply eyeliner to my bottom lash line in a way that doesn't make me look like I have wandered off the set of a Tim Burton film.
Birchbox, which was founded in 2010 by Harvard Business School classmates Katia Beauchamp and Hayley Barna, casts a net for engaged customers with their sample boxes. Today more than half of the company's 400,000 subscribers shop on the website for full-size volumes of the products, according to a company spokesperson.
Customers are "engaged" when they are actively seeking out a type of product to fit a certain lifestyle. Figuring out how to use cosmetics in a way that is not cloying — my challenge — is a subset of the trendspotting lifestyle that keeps men and women relentlessly chasing after current looks.
In some ways. the search is endless. Brands with miracle products and do-it-yourself routines branch out into cyberspace. But there is also the idea that using a small portion of something — a sample — is like borrowing your roommate's stuff. Interestingly, you never would have bought it yourself, but even more interesting is how crucial it becomes to your life.
A comment left by a subscriber on Birchbox's website says that she doesn't want nail polish in her box. She bites her nails, she says, and she doesn't use it. A company representative responded to the comment by saying, "If you are a nail biter, don't worry, you can use it on your toes!"
Paying for products that you do not want, but somehow you still need to possess, is a paradox that some simply do not understand.
"I did the homework and, for the life of me, I couldn't figure out who would pay $10 a month (for women) or $20 a month (for men) for a little box with a sampling of different toiletry products to arrive at your house," the television personality and stock-picking guru Jim Cramer wrote on TheStreet.com earlier this month.
In 2010, the start-up received $1.4 million in seed funding from venture capital firms First Round and Accel Partners.
The "Avon Lady" of the mid-last century is not an invalid comparison. The company told its saleswomen to enter homes and not only sell beauty products, but instruct women in their use. The goal was that the customer would be able to show her face in kitchens, preschools and butcher shops around the neighborhood and hold her head high. She was, as people say in the business today, on trend.
Birchbox emailed its customers a video for the February shipment of its box. In it, Beauchamp and Gwen Flamberg, an editor at US Weekly, talk about February's theme, "Step, Pose, Repeat" — sponsored by US Weekly's coverage of Oscar awards season.
Birchbox knows the secrets behind all the red carpet looks, Beauchamp says. Do you want hair that shines (Beauty Protector Protect & Oil, retails at $25.95) or nails that change color in sunlight (OPI Sheer Tints — Tinted Top Coat in hot pink, $9)? You're in luck. This #partyinabox (please Instagram, Tweet and Facebook using this hashtag) is perfect for an Oscar-viewing party. "Just add cocktails!" says Flamberg.
The company will not say how many of its subscribers are under American drinking age, but something tells me it's enough to think that an odd suggestion.
Women may not love being interrupted at home for a beauty lesson today, but the other part of the Avon lady, the educational part, is unchanged.
You can eliminate puffiness from your eyes by placing lemon slices under (not on top of!) your eyes in the morning, Flamberg says in the video. Don't have any fruit laying around? She says. Cold spoons work as well.
These are the kinds of actionable tips that people need.
I might be inclined to obtain Keira Knightley's brilliant navy blue smokey eyes for a night out with my boyfriend, but I am at a loss as to how I will one day end up on a red carpet. No matter though, they also included in my box a tea sachet (Harney & Sons, $9.60), for what I actually do at night. Dab on perfume from a 50 ml sample (Harvey Prince Hello, $55) and kick back with Joan Didion on the Kindle.
My favorite video on Birchbox's "How-To" section of its website features Alina, who is identified as one of the company's software engineers. Using one of the color palettes that Birchbox sells as full-size products, she demonstrates making a "gunmetal eye." She is so natural, this software engineer, so calm in front of the camera; so patient as she instructs how to glide the eyeliner in between the top lash line and the eyeball, which is something I can say without hesitation that I have never done.
If Birchbox doesn't work out (plenty of subscribers say in the comments that they are fed up with the quantity or variety of the samples), there are other subscriptions to shell out one's discretionary budget for. Ipsy is a main competitor to Birchbox, then there is GlossyBox, NatureBox, Stitch Fix, Art in a Box, Amarya and Beauty Army. There are many more. Some, like Batch Nashville, offer localized selections of food and ephemera that appeal to a niche audience the way that brined cucumbers or coffee once did in Brooklyn.
Fancy Box offers celebrity subscriptions. For $39 per box, plus shipping, you can find a box deposited on your doorstep that contains $80 of products hand-picked by Jennifer Love Hewitt. Because, at this point, why the hell not? Liz Cadmen who subscribes to dozens of boxes and posts reviews of the contents on her site politely calls the Hewitt box a "mixed bag" — with a "cake candelabra," "acrylic 'diamond' earrings," and this shirt.
Even the Skin&Co Roma Truffle Therapy Boosting Anti-Aging Serum ($75) that came in my box — as sweet-smelling as it made my cheeks before I slipped into bed — was not enough to convince me that living a subscription cosmetic lifestyle is actually living. Beauty is skin-deep, but the reasons that I do or do not try on new products are more meaningful. My reasons, eventually, will wear thin. My subscription will lapse, and I will need to find somewhere to unload all these samples.
Heather Struck is a journalist living in New York City. Someone once told her that green eyeliner makes brown eyes pop.
Photo: Meghan Wilker
---
Support The Billfold
The Billfold continues to exist thanks to support from our readers. Help us continue to do our work by making a monthly pledge on Patreon or a one-time-only contribution through PayPal.