18-Year-Old Sues Parents for College Money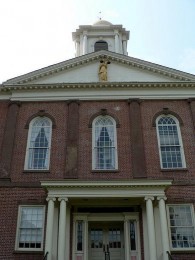 Here's a mind-boggling case from the Morris County Courthouse in New Jersey, according to Bill Chappell at NPR's The Two-Way:
An 18-year-old honor roll student named Rachel Canning is suing her parents for financial support and money for college after being kicked out of the house for behavioral issues ("one or two school suspensions, drinking, losing her captaincy on the cheerleading squad and being kicked out of the campus ministry"). Canning says her parents abandoned her and is currently living with her best friend, Jaime Inglesino, whose father is an attorney and is helping Canning sue her parents. Canning's requests were denied by a judge in the first round of hearings in the case.
In late December, Canning's parents' attorney wrote a letter stating that the parents would continue to pay for Rachel's health insurance and saying she is entitled to money from a college fund they created, reports the The Star-Ledger.
"I know Rachel is a) a good kid, b) an incredibly rebellious teen, and she's getting some terrible information," Sean Canning told CBS 2.
He told the TV station that his daughter left home in November. The Canning household isn't a strict one, he said, noting that curfew is often after 11 p.m. Several local media outlets have reported that the Cannings did not approve of their daughter's boyfriend, whom the Daily Record has identified as a fellow senior at Morris Catholic.
The judge in the case, Superior Court Family Division Judge Peter Bogaard, said it would set a bad precedent "in which children can flout their parents' rules and then demand money from them" if the court found legitimacy in Rachel Canning's requests. Sorry Rachel, but it's time for you to figure out how to pay your own way.
Also I want to know how the other adult in this story — John Inglesino, who has been helping Rachel with her case against her parents — feels about why he thinks this case has legs.
Photo: Zager Family