We Bought An Ice Cream Store
by Helen Qin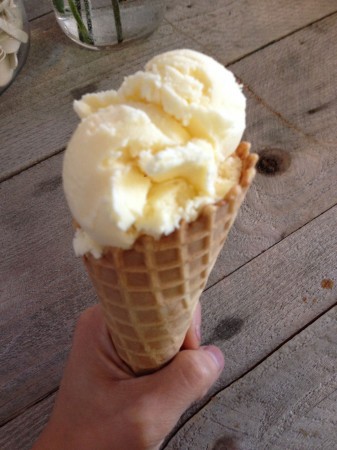 Last spring, my boyfriend and I moved to Cleveland from Los Angeles and decided to start a small ice cream business. I wrote a piece here describing how we were going to try to sell our ice cream at a food festival, and detailed the costs of being a vendor for two days. I'm sorry it's taken me so long to write an update.
After our first event in May, we were booked six days a week, sometimes multiple times a day, at different food truck events, festivals and farmer's markets. We made ice cream on the seventh day. We've been fortunate to receive an incredible amount of support from the Cleveland community, including a "best ice cream" award from a local magazine. Our business plan was to make more money than we spent, and we broke even on everything, including the purchase of secondhand commercial ice cream making equipment for approximately $8,000, before summer ended.
In September of 2013, a local ice cream shop in a walkable neighborhood of Cleveland closed. We took a look at the place, and liked both the area and the 60-year ice-cream history of the building. But was it too soon to go from our first event in May to opening a brick-and-mortar just a few months later?
(Spoiler alert: The banks think it is.)
Loans from banks weren't happening, and even real estate loans from the city were out since we were so new. While we think we could have gotten investors, we didn't want to go that route yet. So far, we've done everything ourselves, and it's hard to let go and be accountable to people who might not share the same vision. Either way, it seemed best to keep our finances under wraps for the time being, and so I held off on my update to the Billfold.
In November 2013, my then boyfriend and I got married at the courthouse. We used the money my parents had generously given to us as a wedding gift, along with our savings, for a down payment on the ice cream shop (35%). The mortgage on the property is to the former owners of the shop, who've agreed to act as the "bank" for us. As for why we chose to buy versus rent, our mortgage, taxes and insurance combined would be less than rent for similar places in the area. Additionally, renovations on any place we rented would be paid by us, which didn't make sense for a place that might not be permanent. Finally, simply put, we loved the idea of a stand-alone building we could make our own.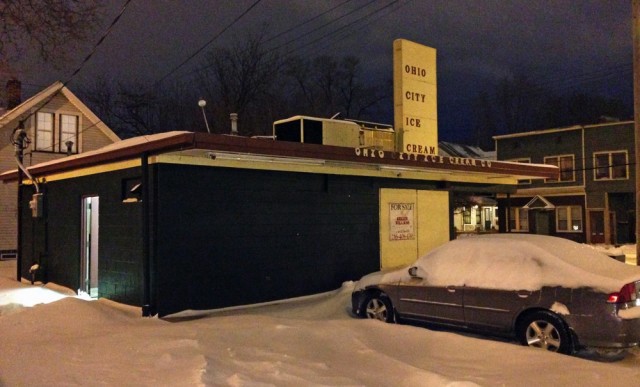 As of January 2014, we are no longer just a mobile ice cream business — we have a store! My husband had previously built sets in L.A. and will be doing most of the renovations. That'll help keep costs down, and we're also looking into grants from the city for small business owners and exploring the idea of using Kickstarter. We'll be funding the costs of the renovations out-of-pocket until then. We welcome any other advice from you guys as well.
As for the food festival, total costs were approximately $2,000, which includes things mentioned in the previous article, as well as supplies like cones and cups, ingredients, and rent per hour at the shared commercial kitchen we used. In the two days, we sold approximately $2,700 of ice cream. A $700 net profit over two days and excluding all the hours we worked probably isn't something to write home about, but for our first event ever, we were thrilled.
Starting a small business is a lot of work, and financially, I think it'd be virtually impossible without support from family and friends. Without the money from my parents, we wouldn't have enough saved for a down payment. We still live with my husband's mom to save on rent, so that we can do things like fund renovation costs out-of-pocket, and I plan on, and hope, to keep my full-time job for a long time. Speaking of, I'm pretty sure we'd make more money, and get more sleep if we both just worked for someone else. But there's a reason people choose to freelance and start their own business, and we consider ourselves fortunate to be able to do the same. You can find us at masonscreamery.com, and I'll try not to wait too long to post my next update.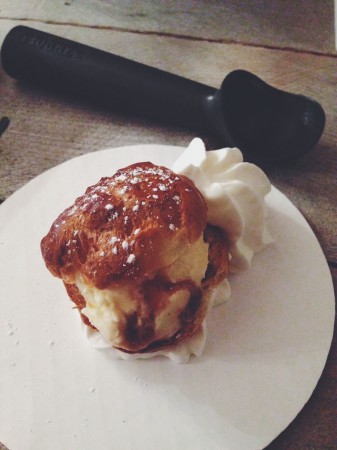 Helen Qin still loves ice cream, although she does not eat as much of it as she used to. Find her on twitter @masonscreamery.
---
Support The Billfold
The Billfold continues to exist thanks to support from our readers. Help us continue to do our work by making a monthly pledge on Patreon or a one-time-only contribution through PayPal.