Return Your Library Books, You Thieves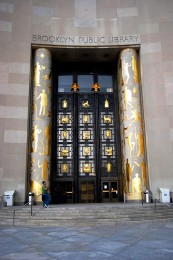 The numbers are in — a year later — and it looks like there were 70,144 books checked out but never returned from Brooklyn Public Library's 60 branches in 2012:
Library workers blame cutbacks for the large number of thefts, which spiked dramatically from 2011, when 61,543 books were never returned.
At the Brooklyn Heights branch, staff has been slashed from 30 employees to 20 over the past five years, largely due to city budget cuts. In 2010, 71,087 books vanished.
"We don't have the staff to watch as much," said the librarian, who declined to give her name.
Apparently in 2009 there were 4.1 million books, and now there are only 3.3 million! Now, this is no doubt a real problem but I would object to the strong wording in this New York Daily News article. Thieves?! I would go with something closer to "people with the best of intentions who will one day finish reading this George Saunders story collection, I mean you never know, it could be tonight, it could be tomorrow, but I'm certainly not going to give up now, after it's been sitting in this stack of books by my bed for upwards of seven months."
In other librarian-y news: the $3,000 Lemony Snicket Prize for Noble Librarians Faced with Adversity has been officially approved by the American Library Association, so take heed librarians who are both noble and faced with adversity:
Snicket himself believes that, in much the same spirit, librarians have suffered enough. Therefore, he has established the annual prize honoring a librarian who has overcome adversity.
According to Snicket, it is his hope that, "The Snicket Prize will remind readers everywhere of the joyous importance of librarians and the trouble that is all too frequently unleashed upon them."
Photo: Paul Lowry
---
Support The Billfold
The Billfold continues to exist thanks to support from our readers. Help us continue to do our work by making a monthly pledge on Patreon or a one-time-only contribution through PayPal.