The Best Things I Bought at Estate Sales Last Year
by Brooke Hatfield
In 2012 I moved from Washington, D.C., to Atlanta with only what fit in my car. The three-bedroom house I share with a roommate was pretty large and pretty empty when I moved in, but I work for a non-profit, so there was no budget to trick the place out — which is one reason I spent lots of weekend mornings in 2013 digging through strangers' belongings alongside other strangers at estate sales all over the greater Atlanta area.
Estatesales.net has a terrific email alert that will send you listings for sales in your area. Most listings come with photos, so you can get a decent sense of whether a sale is worth the drive.
Here are some of the best of what I got this year! There are question marks following prices because I didn't keep track of what things cost. (One reason I live with a roommate is so I don't have to sweat impulse buys at dead people's houses.)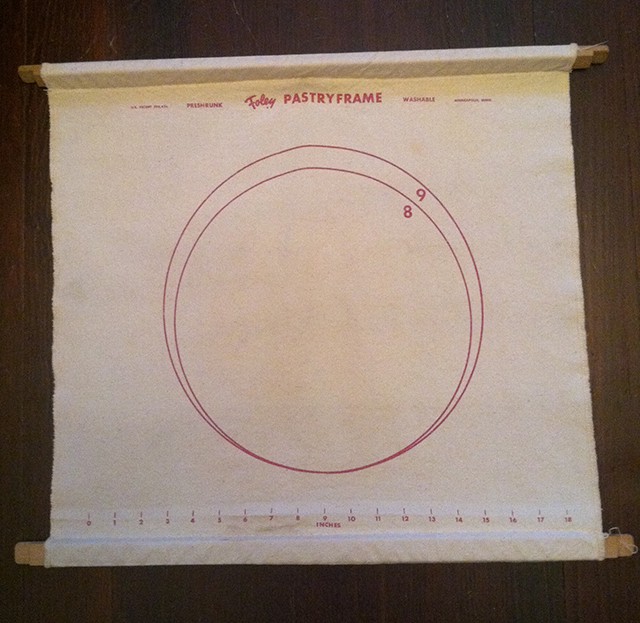 Used Foley Pastry Cloth
$1? (New ones retail for about $20.)
"A pastry cloth makes an excellent work surface for rolling out pie crusts, biscuits, cookies, and other doughs," but I have no intention of ever using this as its manufacturer intended — it hangs on a wall in my kitchen, a silent reminder that some people bake.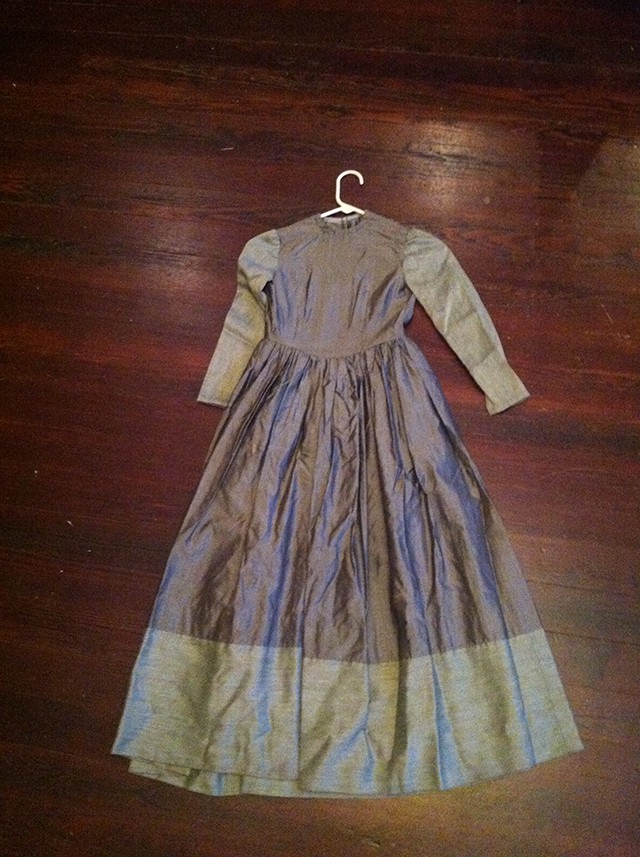 Dress I Cannot Wear Because I Do Not Have Baby Arms
$2-$3?
Behold a spectacular failure at eyeballing something! You may not pick up on the garment's scale from the photo, but trust me when I say it is laughably small, and there is no way my adult torso could ever fit into what is clearly a dress made for a child. Mostly I included this one so I'd have an excuse to embed a gif of Dooneese Merrell, the only woman who could wear this dress.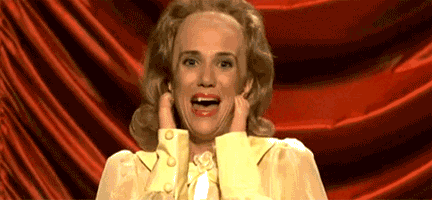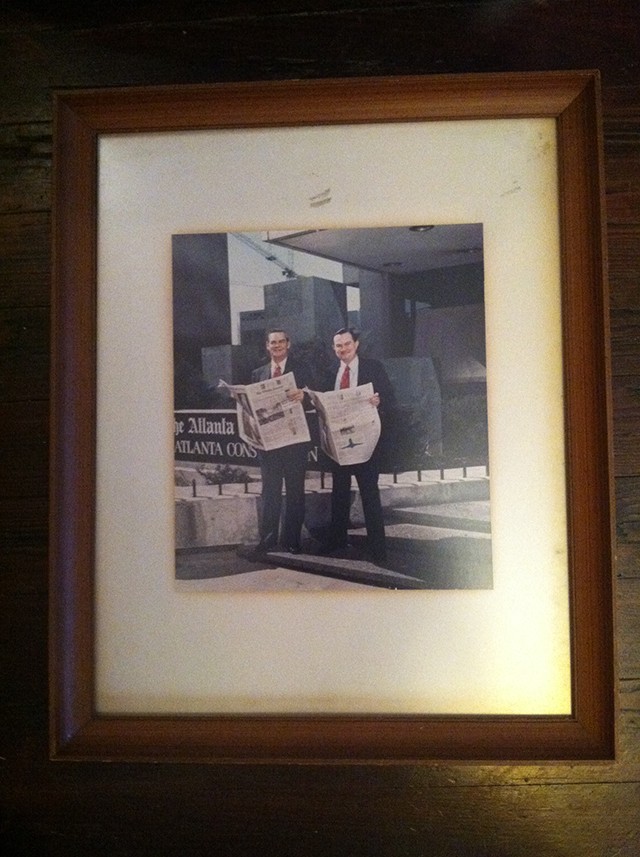 Portrait of Newspapermen
$10?
Estate sales reveal the interests — and occasionally medical conditions! — of strangers. I went to one at the home of an Atlanta newspaperman whose basement was full of wonderful mementos acquired from a lifetime of journalism. I'm reasonably sure this portrait is of the editors of the Atlanta Journal and the Atlanta Constitution when the papers' newsrooms merged in 1982.
The price was kind of high on this one — the back of the frame is taped on, and I had to install a hook on the back of it myself — but this piece of Georgia journalism history was never not coming home with me. Look at how hopeful they are! Bet they never imagined their new baby would one day move to the suburbs and outsource its copy and design desks to Ohio and Florida, respectively.
There were lots of typed-up humor pieces in the basement, including this one, which I keep meaning to frame.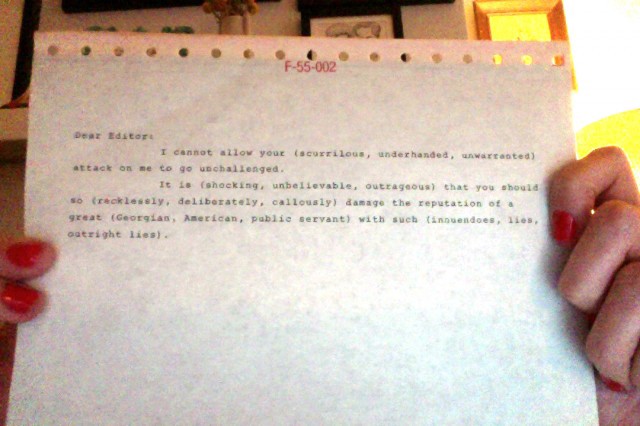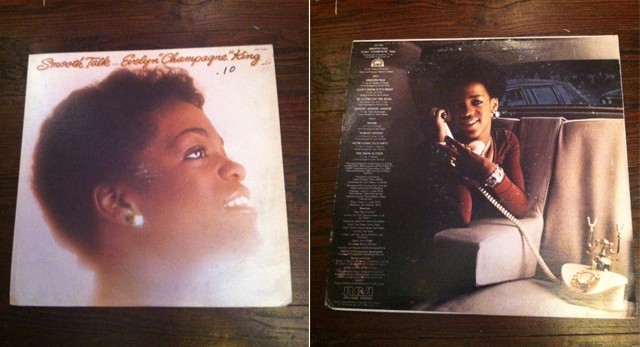 "Smooth Talk" by Evelyn "Champagne" King
$1?
Evelyn "Champagne" King was a '70s disco chanteuse whose songs include "We're Going to a Party" and "Dancin' Dancin' Dancin.'" The photo on the back of this album is epic. Driver, put up the partition please, Evelyn "Champagne" King needs to make an incredibly glamorous phone call!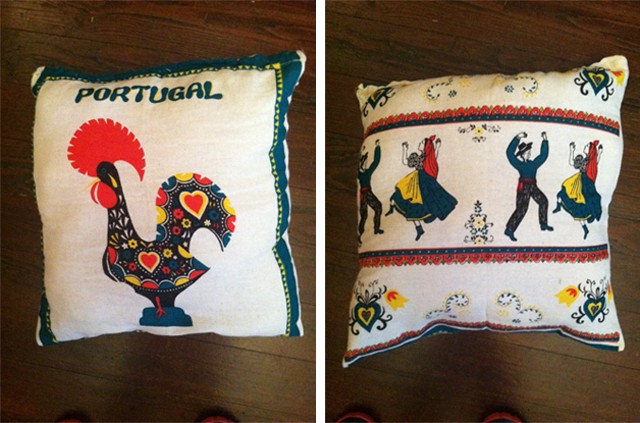 A Pro-Portugal Pillow
$1?
This was actually a bag, but I needed a pillow more than a bag, so I filled it with stuffing and sewed it shut like any modern woman would do.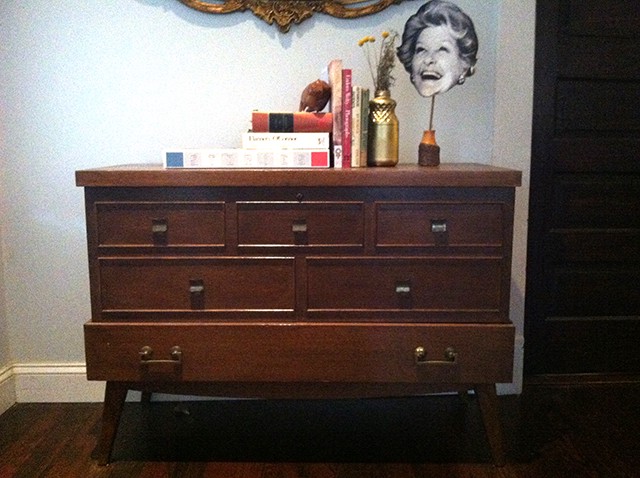 Bureau
$25
There's no question mark after this price! I remember it because a) it's a more substantial amount than, say, $0.50, and b) this piece of furniture belonged to a friend of a friend of my grandmother's, which is how I knew about the estate sale in the first place. Anyway, this bureau is pretty amazing — it has a drawer on the bottom and a chest on top where I store spray paint and linens, respectively. The brand is written inside the lid, but I don't remember what it was and finding out would require moving things. Plus I like mystery.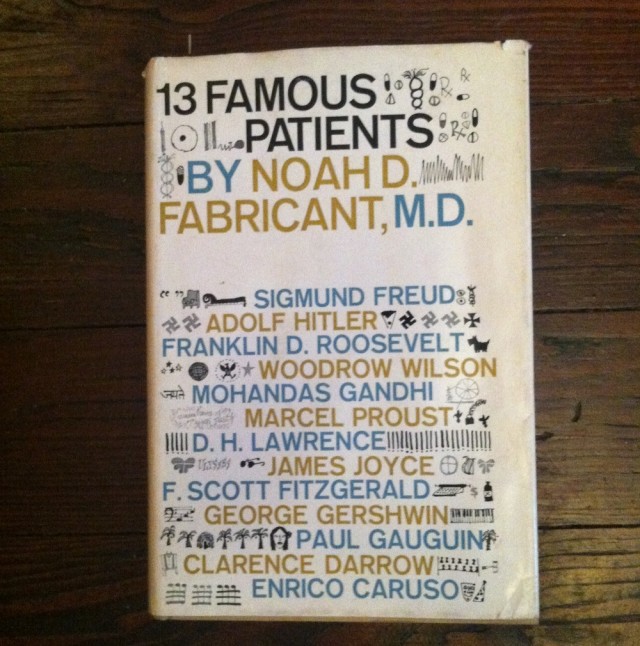 "13 Famous Patients" by Noah D. Fabricant, M.D.
$0.50?
If you like cool editions of weird books, you should be going to estate sales. Obviously the merchandise is unpredictable, but gems like this cost actual pennies. The cover has nice type and the illustrations are choice. (Those D.H. Lawrence exclamation points!) Chapter titles include "The Respiratory-Cardiovascular Story of Franklin D. Roosevelt" and "When Clarence Darrow Had an Earache."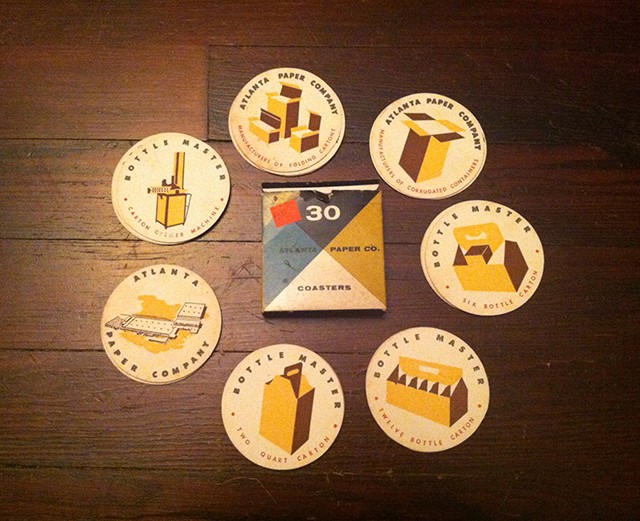 Promotional Coasters from the Atlanta Paper Company
$0.75? (Pretty sure it was the last day of the sale and these were half off, so trust not the sticker price.)
These paper coasters, which look to be circa the 1960s, are so grail. If you want the freshest design inspiration, you're going to have to hang out with me and the old ladies on Saturdays, son!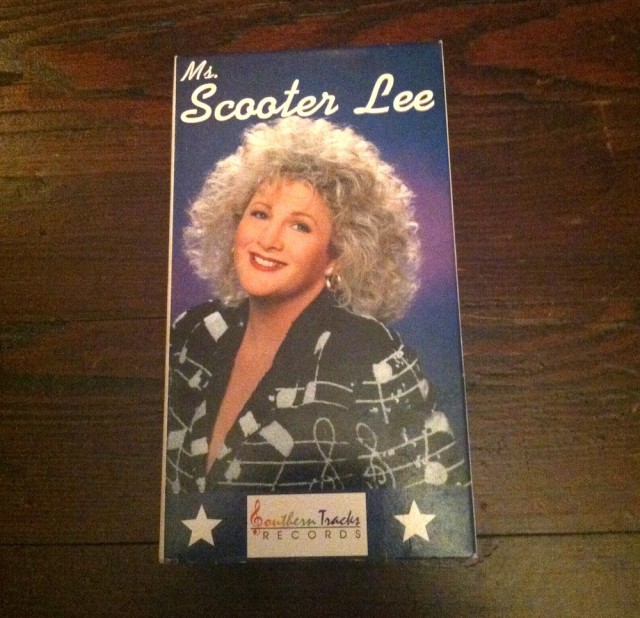 Scooter Lee's "No Options Here" on VHS
$0.50?
I have not watched this yet because I don't have a VCR, but I eagerly await getting to know the "Country Bette Midler" based on the "Scooter Facts" on the back of the box. An excerpt, all punctuation and capitalization original:
Ms Scooter Lee, a stick of DYNOMITE ready to explode! … A country singer with a sense of humor (now that's different). If you get the chance to see her perform, you find yourself with a "real" person who makes jokes about not being a size 6 or a love gone wrong leaving her to "Deal With It," but most of all you realize this lady sings her "derriere" off and you've just become a part of it. No one has made a splash on the dance scene since "DONNA SUMMER" and DISCO DAYS. No one till… "Scooter Lee, Queen of the Country Dance Clubs."
Other Scooter Facts: her pet peeves are getting lost and people who are late, she takes her coffee with extra cream, and she was an early adopter of emoji!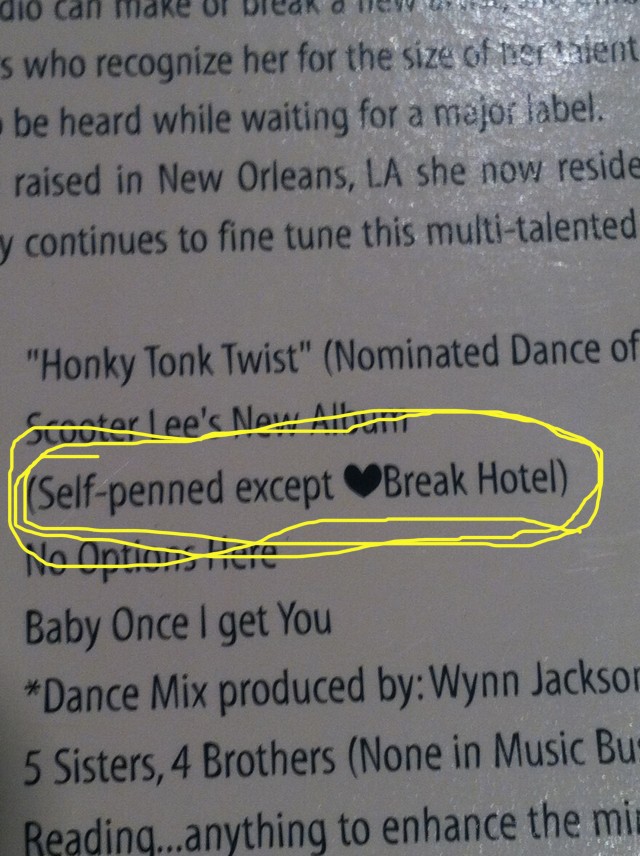 The title of this tape hints at something dark, though, doesn't it? I hope Scooter Lee is doing OK.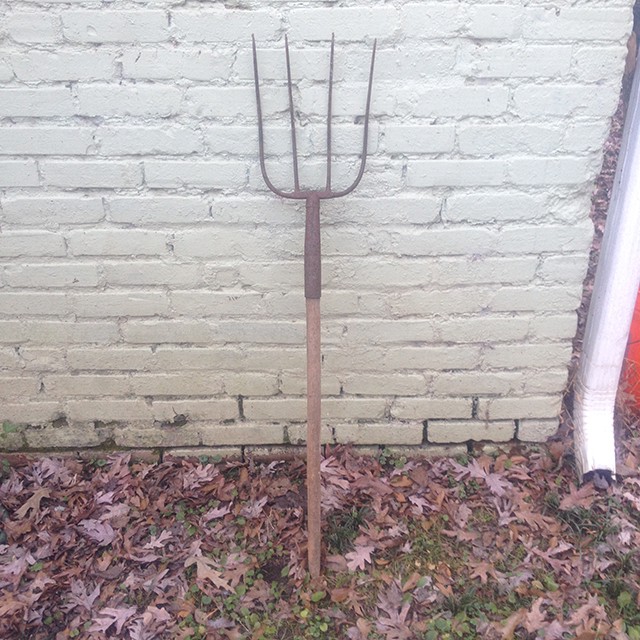 USED PITCHFORK
$1?
For all your pitchforking needs, which might include turning over compost bins, racing up mountains to murder beastly princes, and re-enacting "American Gothic."
**AIRHORN NOISE** REMIX! TIME TO HOLLER AT COOL SHIT I GOT FOR FREE ON THE SIDE OF THE ROAD THIS YEAR!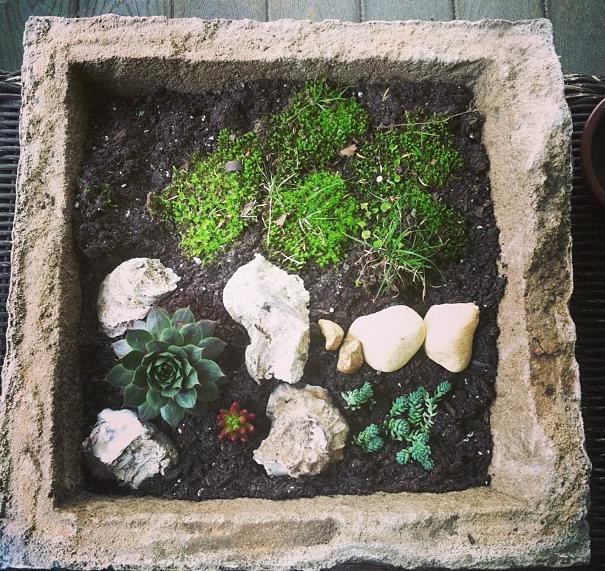 This concrete planter! It was so heavy but not as heavy as my heart would have been if I'd left it!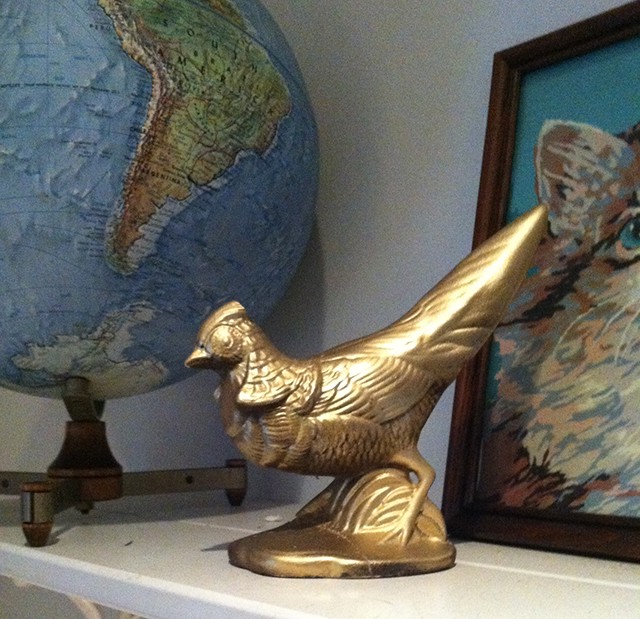 This ceramic bird I spray-painted gold! Thanks, Ranger, Georgia and makers of gold spray paint!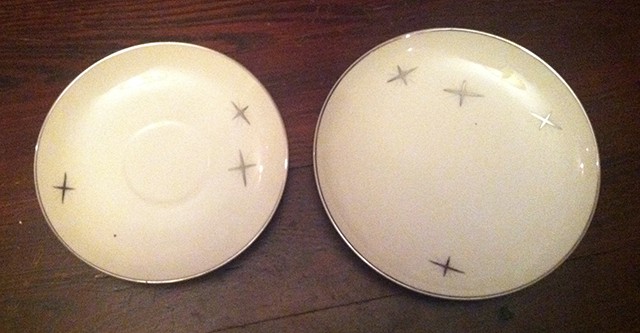 Mid-century tea saucers with metallic trim! What idiot let these go!?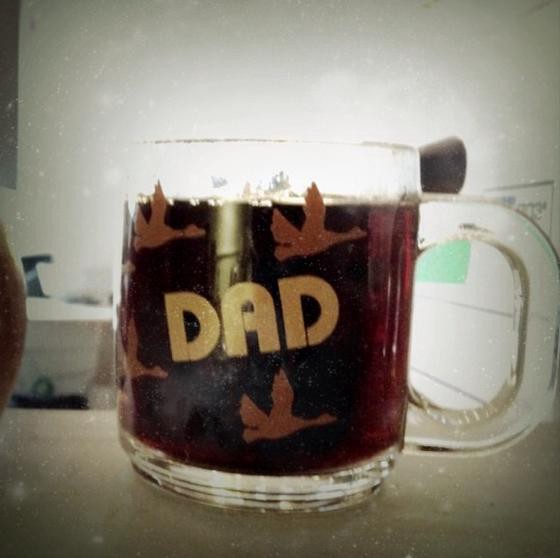 Dad Mug
Gave it to my friend Travis, who is a dad.
Brooke Hatfield has purchased booze at an estate sale.
---
Support The Billfold
The Billfold continues to exist thanks to support from our readers. Help us continue to do our work by making a monthly pledge on Patreon or a one-time-only contribution through PayPal.