I Bought a House When I Was 21
by Emma Lincoln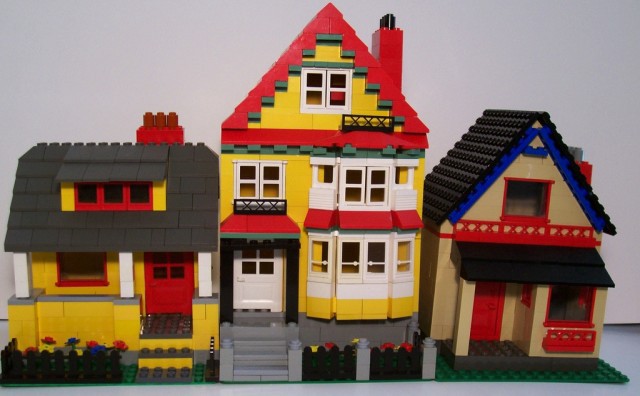 When I tell people that I own my house, and that I bought it when I was 21, they always want to know: How could she afford it? I can see in their faces that they're wondering if I'm a trust fund baby, if my rich boyfriend bought it with me, or if I secretly make money doing something tawdry. Nobody ever asks me that question, but if they did, I think they'd be disappointed in the answer. My secret: I just saved my money.
My boyfriend and I lived in a 200-square-foot room for two years before I bought my house. We shared a kitchen and bathroom with four other people. To keep our costs down, we didn't turn on the heat, eat out, buy each other gifts, or travel. For dates, we went to the free night at the museum, the $2 night at the ice skating rink, or we just got drunk at home on the cheapest vodka we could buy.
At night, when we couldn't handle our roommates, or were sick of constantly tripping over each other in our tiny bedroom, we would lie in bed and imagine our house: We would have chickens, that was always the starting point. From there, anything was possible — a Jacuzzi, tiled bathrooms, and the ability to actually paint or make holes in the wall. We could have a dog that we'd name Tofu. I wanted a crystal chandelier (I'm still working on that), and he wanted a brick driveway (never gonna' happen).
Truthfully, the only thing we cared about was that our home would be ours. Only ours. All ours.
What we both had in common was that we'd never had a place that felt like home. He was an immigrant who had grown up in tiny apartments filled with furniture pulled out of dumpsters. I had moved fifteen times by the time I was twenty, and I was at the point where I couldn't remember my zipcode without looking it up on Google Maps.
When we decided to buy a house, we knew we couldn't afford much. We settled on a neighborhood in Portland, Ore. that was up-and-coming but had a lot of short sales and foreclosures. Our budget was $175,000 and our only criteria was that it was close to public transportation and had enough rooms that we could rent them out to cover our mortgage. To make this purchase possible, we each needed $17,500 to contribute to the down payment, plus any additional expenses like appliances and repairs.
Nobody agreed with our budget. His parents, living in Boston, didn't know it was possible to buy a house so cheap. My parents didn't think there was anything "livable for under $200,000." Even our realtor seemed dubious.
But years of living in dingy, tiny spaces meant we were confident we could live in just about anything, as long as it was ours.
"I don't need a fancy house," I told my parents. "I don't need a yard, or stainless steel anything. The only thing I care about is that I never go into foreclosure."
"We'll see about that when it's gardening season," my mom retorted.
Finally, we found our house. After years on the market, it was clear that nobody wanted it. Even I shrunk away when I first saw it. A tall skinny row house, it had originally been painted barn red until an unruly tenant painted the front half of it lime-green. It had a balcony in the front that looked unsafe to walk on. The same color-challenged tenant had also overflowed the bathtub upstairs and ruined the kitchen ceiling so that it hung down soggy and distorted. All the baseboards in the house were missing, and there were giant holes in the carpets.
But there were three big bedrooms, and it was a 10-minute walk from the train, and a block from the bus line. Everything else, my boyfriend assured me, was just cosmetic. For $144,000, it was ours.
Then, soon after the ink had dried on the deed to our house, my boyfriend and I ended our five-year relationship and I chose to keep the house. Years of being frugal meant that I had just enough money to buy him out of his portion.
As it turns out, it's true what they say about planning a wedding or buying a house — it shows you everything you don't want to see in your partner.
My home (mortgage, insurance, property taxes, garbage) costs me $942 a month. If I were renting, that would get me an average one-bedroom in an average neighborhood in Portland.
I rent out the two smaller bedrooms for $450 each, which covers nearly all my mortgage, and significantly cuts down my utility costs.
The master bedroom is mine. It has vaulted ceilings, a walk-in closet, a balcony and a private bathroom. As I promised my parents all along, I didn't need Victorian details or a vegetable garden to be happy — every time I walk into my bedroom, I'm in heaven.
In truth, living in my own home is very similar to my previous living situation. I share a kitchen and common areas with two other adults. Roommates, no matter how wonderful, are all loud and messy and unbearable at some point or another. I have not installed a Jacuzzi, or even a chandelier. But I have painted all the walls, and I can actually make holes to hang my decorations.
The first night that I spent alone in my new home was the most exciting and fulfilling moment of my life. More than graduating college (which felt inevitable), or getting my first job (which meant actually working), falling asleep on a floor that I owned was the proudest I ever felt. All those years of living in terrible apartments with no personal space finally seemed worth it.
As I fell asleep that first night, on a mattress on the ground with all my possessions in garbage bags, I looked around my room — the carpet, the closet doors, the baseboards, the door handle, the light fixture — and thought, "I own that, I own that, I own that."
Emma Lincoln is money obsessed and she knows it. She leads a local frugality group, helps host an early retirement retreat and loves to help individuals and couples figure out their financial quirks at emmalincoln.com
Photo: Bill Ward
---
Support The Billfold
The Billfold continues to exist thanks to support from our readers. Help us continue to do our work by making a monthly pledge on Patreon or a one-time-only contribution through PayPal.