How I Got My Job: Assistant Producer for an NPR Game Show
by Hillary LP Eason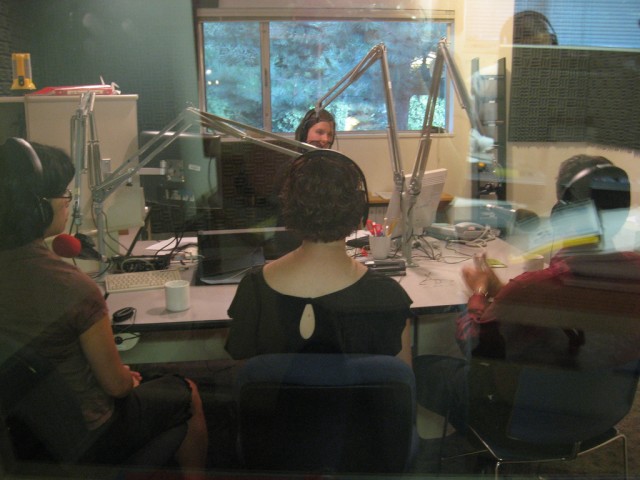 What is your name?
Arthur.
How old are you?
26.
What is your job title?
Assistant producer for an NPR game show.
What do you do at your job all day?
So there's a lot that I do. We have three different modes of production: pre-show, during show, and post-show. And it changes from month to month, week to week.
The main objective of production is getting the show on the air. For pre-production, we're working on getting ready for the live shows. A lot of that is working on the script, in terms of writing. We also work on production, the actual technical audio editing, which is pretty taxing and laborious — our shows are much longer live than on the air, so we have to cut a lot of good content. And then post-production encompasses a lot of editorial; something I've sort of owned is writing promos, the advertisements for the show. There's web stuff — every episode basically gets its own page on our site — and social media, where we're trying to get people to interact. And we try to include other interesting and quirky things from other sites we follow, to get our followers to engage. So we're like, "Here are these cool facts about bees!" We have to talk about our celebrity guest, write what's interesting about them. The online portion is really the art of writing for people — translating our show for people who are probably going to consume a lot of it online. That takes time to figure out, how to pull it all together.
Who's in charge? What's the organizational structure like?
I report to the senior supervisor of the show. I work with a production assistant, and we have fairly similar jobs. The person above me, the associate producer, does more of the actual audio editing.
Let's talk about how you got to your job. Was this something you wanted to do from childhood?
Work in radio, or be a producer?
Either/or.
I thought about working in media, maybe. When I was in high school I was obsessed with SportsCenter, and I thought something like that might be cool. But I didn't know anything about production, and no one in my family really listened to public radio. So I didn't really learn about it until I did college radio.
How did you get into that?
Well, I was already a journalism major. I should probably say that I went to [a large urban state school]. And the TV station at my school sucked. I joined to be a reporter/anchor and they had to shut it down my sophomore year, because nothing ever got done. So I went over to the radio station, which had an awesome reputation. We were broadcast all over [my college's city], and sometimes we'd even reach into [the next state], have truckers calling.
I started at the end of my sophomore year, doing newscasts. I stayed on until graduation. I went from being on the air maybe two times a week for five minutes each, to being a DJ, ended up co-hosting a blues show with one of my good friends. Eventually, I became the news director. But I fought to do these things. And really worked hard to get a reputation.
So basically, with that, you were able to get professional experience in college.
Yeah, yeah, yeah. Actually, the journalism program was way more focused on video production, but I picked up audio from the radio station. And honestly, if it wasn't for that college radio station, I wouldn't be where I am today. I wouldn't have been able to get the internships that helped me get further.
When did you do those internships? Also in college?
Yeah. At the end of my junior year I did this program through a school in D.C. — a semester in Washington journalism program that provided housing and everything.
And when I got there, I still had it in my mind that I wanted to be a TV reporter and work my way up. And the director of the program was like, "Well, do you watch local news?" And I said, (snorts) "No." I told him that was how I thought you worked your way up. And he told me, "There are other ways. You don't have to go that traditional route. And also, don't have it in your mind that you have to do something you don't think you're going to enjoy just because you think it will take you to the next level."
So I asked him: "Okay, what do you have in mind?" And he was like, "Have you ever thought about a career in radio? Because it's right here on your resume." So he set me up with an interview at [a satellite radio service], and I ended up getting an internship and working on a daily long-form interview show with all these ex-NPR producers. I got to spend the summer working like an entry level producer. I got to pitch ideas. I set up the interviews. I ended up producing three full episodes of the show. And once I left, I was like, "This is what I want to do. This is it."
What happened next?
Well, senior year I went back to school, had all these audio editing skills. Did an internship at [a mass media company], which was actually kind of a drag. I ended up basically teaching my friend how to use Final Cut Pro. Which, I should point out, I had learned because of my previous internship.
Anyway, graduation was approaching, and some of my friends were thinking about graduate school. But I was hellbent on getting a job. I applied for a bunch of internships and jobs my senior year, including one at NPR, and either I didn't get them or they didn't work out timing-wise. But right before I graduated I did a daylong production workshop, where they would send their senior trainers to train journalism students like NPR producers.
As part of that, I did an informational interview. At first, the woman who interviewed me was apologetic and told me that they had just fired a bunch of people, and that they would keep my resume on file. But then later that day she found me and told me that there was actually one internship spot that hadn't been filled, on a weekend news show, and she asked if I wanted to interview for it. I did the interview, and I used the director of my summer program and the news director at the radio station as my references, and I got the internship.
I ended up talking to my family about it, because there was a temporary job I could have had on campus. But they all told me to go for it, and I found out that the other job would be there once I got back.
Was the internship paid?
It was. At the time, the rate was $8/hour.
That seems really low.
Well, my first two internships were unpaid. So any money seemed good.
What happened after that internship ended?
In the beginning, I did some temp work at NPR, which is largely a matter of shopping yourself around — going to different departments and seeing if they need a producer for a week or two. I ended up doing a couple of weeks with the [talk radio] show where I would eventually work, but I was on edge about whether or not I could afford it — at that point I was crashing with one of my friends from the summer program, and I didn't want to wear out my welcome. So I ended up moving back to [my college town], because I knew I still had that job waiting for me. The plan was to earn some money and move back by December of that year, December 2009, to get back up to D.C., even if that was temping some more. Realistically, I knew that people do that for months or even years.
And I had applied for jobs in D.C. before I left — I was really keen. About a month after I got back, I got a call from the place where I'd done the temp work. I think it was about Halloween of that year I got an offer. I had to sign an agreement and everything. It was awesome, it stated my salary, and I was like, this is real.
And you started out as…
An editorial assistant. It's a lot like being a production assistant, but more writing.
And what was your trajectory from there?
After two years on that show, I started to feel like I wanted to branch out. I'd worked on a bunch of different topics — pop culture, foreign affairs, I did election work, some reporting. And I started to realize that the day-to-day reporting of the news wasn't for everyone. I felt a little guilty about not being that passionate about something like political reporting, honestly, but I figured it was better to at least admit that and look around than stay complacent.
So I started looking for jobs at other shows, in different cities. One of them was this game show. And honestly, ever since I was a kid, I've loved game shows. It's one thing to cover news and events, things that affect people's lives, but it's also another skill to work on something that entertains people. Making people laugh, it's tough.
Had you been promoted at your last job?
I mean, I wish I had been. But there were a lot of people who were just temping, so I was at least in a full-time position.
Where would you like this job to take you? What do you want to do eventually?
I want to move up through this job. Really help craft and mold the show. I'd like to help it get better and better. And I think I'd like to eventually create my own show, get into more of a program development role. Maybe do more on-air stuff.
So I have a few questions about how someone would get a job like yours. I actually interned at a local TV news station when I was in college, and I feel like most of the people there were taking the approach you mentioned earlier — they were trying to move up through progressively bigger markets. You, it appears, took a more efficient route. Do you feel like one of these approaches is more likely to be successful than the other?
I hesitate to say that one is more efficient than the other, because I think that it depends on what you want to do. If you want to do reporting, I've noticed that member stations give you a much bigger opportunity to do a lot. Because pretty much all the reporters I know worked their way up — they either come in through member stations, or some are snatched up from newspapers, and they're like, we can train you. So if you want to go the reporter route, most member stations only have a few reporters, and they do EVERYTHING.
For producers, there are some who come from member stations, but there are a good amount of us who got an internship and stuck around. And when you get to temp, the pay is good, and you're exposed to really smart, really hardworking people. Even though it's hard — the temp pool is huge, and you're surrounded by people who are just as good, or have more experience than you. When you go straight to NPR, there's a lot more competition and work isn't guaranteed, but you're already in the building.
You obviously have a trade-specific background. You did radio in college, and you studied journalism. Based on your experience, is that sort of a prerequisite?
In terms of the academic stuff at least, no. Honestly, when I got here I realized that that was kind of an illusion. Most of the people I was interning with actually didn't go to school for journalism.
What did they go to school for?
English, history. Political science. And they just also happened to write or do radio stuff or what have you.
But they did have that specific experience that helped them get their feet in the door.
Well, a lot of times they did have the hands-on, specific experience. And writing is a huge part of it. Not to discount the technical skills at all, but if you can write well, that will take you far.
Okay. Let's assume that I am a college student who loves NPR. I go to a school that has no radio program. I desperately want to get my foot in the door, and I want to leave wherever I am. But I have neither experience nor connections. What do I do?
Hmm.
But I love NPR! And I'm a really good writer! And I taught myself the editing tools!
Gosh. I'm trying to think. That's tricky.
I think that answer is kind of indicative.
Well, okay. Not everyone I interned with did college radio, but you know, a lot of them did. I would say reach out to a member station, so you can at least get some kind of experience. Call them up and say, "Can I at least volunteer at the station, do an internship, shadow a producer?" If you did TV work, or maybe your school newspaper, that could help too.
What advice would you offer for people who are interested in this field?
Listen to as much public radio as you can. Ask questions. Even write to a person on a show, even though you might not get answers as quick as you want. Even if it's someone entry-level. Because people like it when you ask about their job, like, "What does it consist of? I'm really interested." People like it when you ask about their job. I think everyone gets flattered. So just don't be afraid to ask.
Want to talk to Hillary about how you got your job? Email: hillary@thebillfold.com
Hillary LP Eason lives and writes in Washington, D.C. Photo: Joaquin Uy
---
Support The Billfold
The Billfold continues to exist thanks to support from our readers. Help us continue to do our work by making a monthly pledge on Patreon or a one-time-only contribution through PayPal.