Calculating the Costs: Winter Squash Carbonara with Pancetta and Sage
Okay, so this recipe is from Bon Appétit, and I know the last time I did this the recipe was also from Bon Appétit, but I'm a subscriber and just got their February issue, so here we are.
Butternut squash is something I only eat during the winter season, which is why I was drawn to this particular recipe. Also you can't go wrong with anything involving pasta and pancetta. I also liked that the butternut squash sauce was creamy without the need to have any actual cream in it, which made it feel less heavy.
The cost breakdown:
• 2 tablespoons olive oil (from my big bottle, so, about 10 cents)
• 4 oz. pancetta (Italian bacon), chopped (a quarter pound from my deli was about $3)
• 1 tablespoon finely chopped fresh sage ($2 for a package)
• 1 2-lb. kabocha or butternut squash, peeled, seeded, cut into ½" pieces (about 3 cups) ($2.10; you can buy pre-chopped for more, but it so much cheaper to peel and chop our own)
• 1 small onion, chopped (50 cents)
• 2 cloves garlic chopped (10 cents)
• Kosher salt and freshly ground black pepper (negligible cost)
• 2 cups low-sodium chicken broth (from my freezer, maybe about $1)
• 12 oz. fettucine or linguine ($3.29 for a package)
• ¼ cup finely grated Pecorino, plus shaved for serving ($4)
The total cost of this recipe was $16.09 and made about three servings (Bon Appétit said four, but I was real about how much I wanted to eat), so it was about $5.36 per meal. I still have a bunch of sage and Pecorino, so I'm figuring what I should do with it.
Bon Appétit on the left, and mine on the right: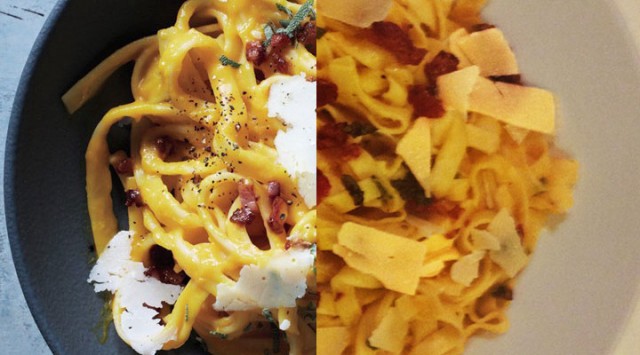 Verdict: The sauce was basically a butternut squash puree that you turn into a sauce using some of the cooking water from the pasta combined with the Pecorino, so halfway through the process, I was thinking, "Am I making butternut squash soup?" In fact, Bon Appétit said that you could use any leftover puree as a soup. It was almost like dumping some pasta into a soup? I likely won't be making this again, though I thought it was a fine thing to have for dinner.
Top Photo By: F. Deventhal