Better Living Through PowerPoint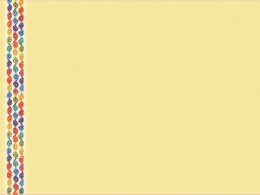 Lourdes del Castillo de Rumié, 77 years old and practically vibrating (because there is so much left to do!), thinks she may have found the secret to joyous old age: PowerPoint.
We all have our reasons to live, or so we hope. Mrs. Castillo de Rumié, a 77-year-old woman living in Cartagena, Colombia who teaches art history and cake decorating classes out of her home, has found hers. On the recommendation of her 90-something computer savvy neighbor, she hired a computer teacher to teach her how to use the long-neglected laptop given to her by her son:
She learned email. She learned how to download MP3 music files and JPEG images and convert them to other formats. She learned about screenshots. And she found bliss when she learned to search for images on Google and then, in PowerPoint, weave them into a narrative about art.
"Suddenly I discovered heaven," said Mrs. del Castillo de Rumié.
And so every night that she can, around 8:30 p.m., when her husband retires to bed and magazines, she rushes to the dining table, fires up the Samsung, and works on a presentation about Michelangelo or Belgian baroque art. Then somehow it's 2 a.m.
Sometimes, after she has shut the laptop down for the night and gone off for pre-bed ablutions, her mind unhelpfully swims with ideas of the slide transitions she could attempt still, the animations she could make, the music files she could embed.
May we all find our own personal PowerPoints, whatever they may be (they are probably not PowerPoint).