Writer-in-Residency…FOREVER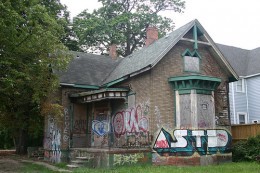 If you're a writer who's willing to relocate, an organization called Write-a-House in Detroit, Mich., wants to GIVE YOU A HOUSE:
WAH Author-in-Residence will receive the deed to a house. For two years prior to receiving the deed, the WAH Author-in-Residence will live in the house rent-free. They will only be responsible for insurance costs and property tax costs. After two years, the deed will be given to the awardee as long as the selection committee and WAH Board agree that certain terms and conditions have been met.
The catch? Well the catch is that you have to live in Detroit. Also these are formerly abandoned houses, and while they'll be 80% renovated, you are responsible for renovating it the rest of the way (which frankly, sounds kind of fun) (says someone who has never renovated a house).
The WAH Author-in-Residence will also be expected to:
contribute content to the WAH blog on a regular basis. participate in local readings and other cultural events use the home as their primary residence. In general, they will be responsible home owners, engaged neighbors, committed city residents and good literary citizens.
So to recap: you have to blog about your free house (would probably do that anyway), go to readings (I love readings, when you get a house for going), live in your free house (what else are you gonna do, PAY for a house? pssh), and be a Good Literary Citizen (seems a lot easier to do when you don't pay rent).
Property taxes, though! Um, bad news: "Detroit has the highest property tax rate in the country." At around 3% for a $150,000 home, it's double the rate of the 50 largest cities in the U.S.
So that means, depending on the value of the home, you could end up paying $4–5,000 in property taxes each year, not to mention insurance (not mentioning because I know nothing about it), to live in Detroit. Hmm. Still, though. FREE. Free-ish. That's equity!
After the initial 2 years, awardees will no longer be required to fulfill any specific terms or conditions. However, Write-a-House hopes that former WAH Authors-in-Residence will continue to be good literary citizens and residents of Detroit forever. It should be understood that the strong presumption of Write-a-House is that ALL applicants would be interested in making Detroit their permanent home at the time of their application. It is also understood that not everything always goes as planned.
Photo: Danielle Walquist Lynch
---
Support The Billfold
The Billfold continues to exist thanks to support from our readers. Help us continue to do our work by making a monthly pledge on Patreon or a one-time-only contribution through PayPal.