Striking For Better Wages at McDonald's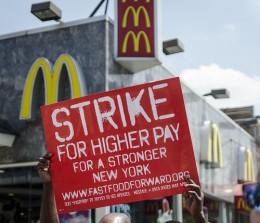 Fast food workers around the country are striking today, calling for the federal minimum wage to be increased to $15.
Over at the Guardian, Laurentina, who is a mother of four and has been a McDonald's employee for five years, is answering questions from readers today. She talks about her typical day, her managers, her struggle for work-life balance, and getting by on part-time work:
They are always checking that you never make 40 hours. I typically make between 25 and 30 hours a week. They often stop you at 38 hours a week. It's really hard with my kids. I know I could get two jobs, but then would I be able to raise my kids? Would I be able to give them enough attention? By the time I'm out of work, they are out of school, but I still try to spend time with them. it's hard.
We don't get healthcare benefits. We are now thrown into the healthcare market. McDonald's just gave us a litle card — "how to navigate the health market". I am hoping to find time to look it up. Mcdonald's has been providing info where we eat on posters and stuff.
For our break, we get one free meal from McDonald's. We do get discounts on McDonald's meals on our days off. They provide uniforms for us, and every 6 months we get shoes from them to work there.
Photo: Annette Bernhardt