My Last Hundred Bucks: It's A Long Way To The Top (If You Wanna Rock and Roll)
by Katie Hannon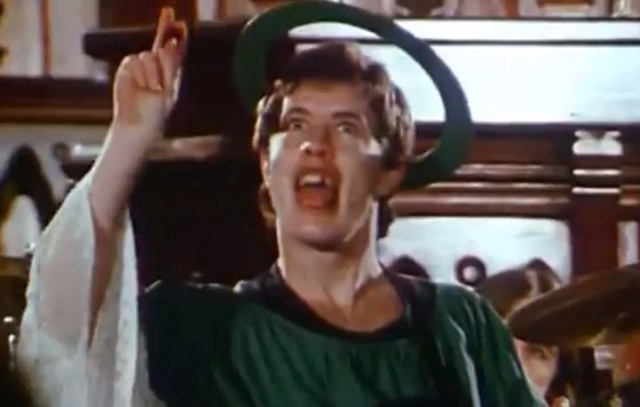 My AC/DC cover band played a show the night before Halloween. I dressed as an angel, because it amused me to imagine someone in such a costume singing about large testicles, murder and going to hell.
$20: Gold tights from American Apparel, bought in a hurry on my lunch break. I am high-waisted and a bit zaftig. The tights did not fit me. The clerk's voice played in my head as in a nightmarish echo chamber: "Just so you know, all hosiery is final sale."
$11: Gold paint, gold glitter and a paintbrush for my halo. Conveniently, I already had some extra foamcore at home from another ill-advised crafting project.
$17: Black spandex shorties to wear over the tights that don't fit me.
$5: Gold eye shadow. A metallic palette, actually. This one was worth it.
$11: Gold wings. They didn't actually look like wings; I looked more like Brian Eno in his feathered collar years. My bandmate told me that I reminded her of something from a nature show. Also worth it.
$11: A cab to the venue. I attempted to be a responsible human and take public transportation. I waited for the bus across the street from my apartment for several minutes. It was raining quite heavily. I was late. I was wearing a really short dress. A cab happened to drive by. Insert your cab excuse here. Worth it!
$5: Whiskey and soda at the venue. Last time we played here, they hooked us up with free drinks all night. This time, we got one drink ticket. It was a Wednesday night, so I didn't get too uptight about it. I ordered a Maker's on the rocks and attempted to use my drink ticket. "Ahhhh," the bartender hesitated. "Do you have two tickets?" I paused for a moment before replying "No. I only have one." Another pause. "Well, you're really not supposed to use the ticket for a drink like this. It's for cheaper drinks." Not in the mood to grovel or negotiate, I asked if I should pay for the drink instead. "Nah," he said, "it's OK. Just take it." Due to feelings of social impropriety and general inadequacy, I made quick work of the drink. Then I went back for a cocktail, paid for in USD.
$20: Two tall boys of Schlitz. Before you get offended, they were not $10 each. They were $4 each. I bought two right before we started our set. I placed both at the foot of the stage. I drank about half of one, then gave the other half to our drummer. The second beer disappeared.
I went to get another drink once we were done playing. There was no money in my wallet. My change had either been misplaced or stolen. I approached the bartender and gathered the nerve to ask a really stupid question. "I know this is a long shot, but did I happen to leave $10 on the bar earlier?" He reacted as one might expect. My kind friend intervened and bought me a beer.
$0: Another kind friend gave me a ride home.
Katie Hannon lives in Chicago.
---
Support The Billfold
The Billfold continues to exist thanks to support from our readers. Help us continue to do our work by making a monthly pledge on Patreon or a one-time-only contribution through PayPal.