A $429 Blender?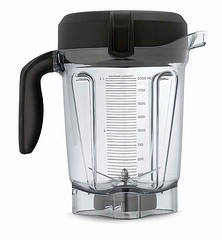 Catherine Price at Slate has written a paean to her beloved Vitamix, which she spent $429 on and would grab on her way out if her house was on fire:
When you first buy a Vitamix 5200, the so-called Ferrari of blenders, two thoughts are likely to pass through your mind. The first is "Did I really just spend more than $400 on a blender?" And the second is "This machine is going to change my life."
One might argue that for $429 this machine BETTER change your life. One might argue that, that is unless one just read this essay ready to pass judgment but one is now trying to justify spending $429 on a blender when one does not have steady income.
In the meantime, one should just enjoy the following list of best phrases from Price's article, ranked in order of amazingness, according to me:
7. "Holly Hacker, Vitamix's director of direct sales and customer experience…"
6. "People tweet about hugging their Vitamixes."
5. I'd bought a special pair of noise-reducing earmuffs to use while blending
4. "I'd proposed — in all seriousness — that my husband and I take the Vitamix with us on vacation."
3. "'I love it so much, I would recommend it to the dead!'"
2. "'Every time we see a Vitamix demonstration, Craig and I both get sentimental.'"
1. "In 2010 the company put together a book called Gratitude, a collection of stories and Vitamix testimonials…"
Photo: USCPSC
---
Support The Billfold
The Billfold continues to exist thanks to support from our readers. Help us continue to do our work by making a monthly pledge on Patreon or a one-time-only contribution through PayPal.