The Burger Joint with Excellent Pay and Benefits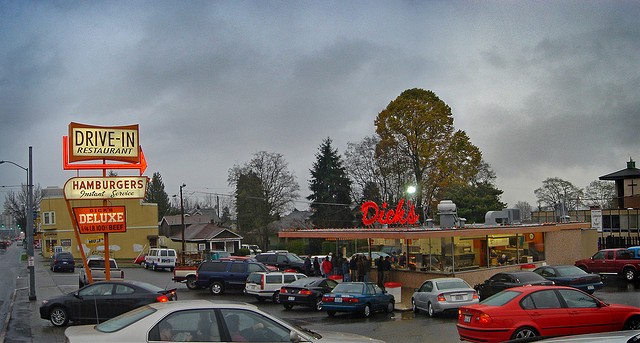 So how exactly is Dick's able to offer more than the minimum wage and a plethora of benefits when its menu charges no more than $2.70 per item?
Jim Spady, the restaurant namesake's son, company vice president and legal counsel, has surprisingly simple answers based on his dad's business philosophy. (Dick is turning 90 next month and remains president of the company.)
"Among his special rules is you should make decisions for the long run so long as you can survive in the short run. The No. 1 job of a business is to make a profit. If you don't, it's not worth anything. No. 2 thing is to take care of your people. They're the key to success," he said. "So once you've taken care of your people and you're making a profit, you should make an investment in your community. And if you have a healthy community, you'll have a good business in the long run."
In the Seattle Times Thanh Tan writes about Seattle-based burger joint Dick's Drive In, which pays its employees $10 an hour to start with regular merit raises, a 401(k) retirement plan with employer match, up to three weeks of paid vacation, paid time for volunteer service, health and dental benefits, up to $22,000 in scholarships for employees working at least 20 hours a week while attending school, and up to $8,000 in child care assistance. Man, that was a lot to type out (see more here). They're able to do this because of a simple thing: Dick's Drive In is a popular and profitable establishment, and they believe that if you're making a lot of money, you should take care of your employees. And they're very business-minded about it as well: Jim Spady, Dick's son, believes that raising the minimum wage could hurt small business owners who aren't profitable and can't afford to pay their employees more and that supply and demand will be what it is. Unfortunately companies that are highly profitable aren't always as altruistic as Dick's (i.e. Wal-Mart family members take four spots out of the top 10 richest Americans, while their employees continue to protest for better wages). In any case, here's to Dick's for treating their employees well.
Photo: Russell Bernice