Parties on a Budget: The Six-Pack Swap
by Shelby Pope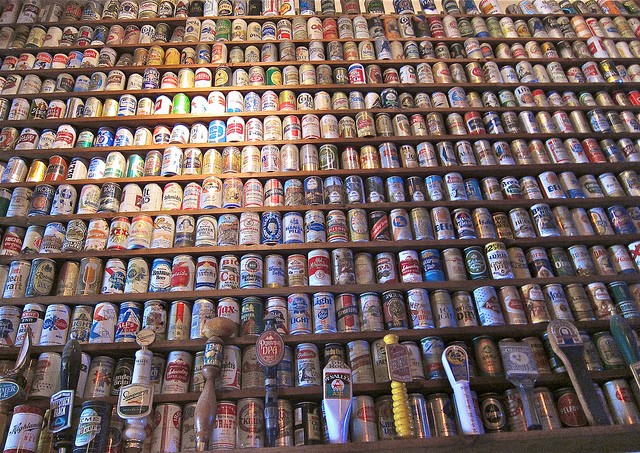 My boyfriend and I recently moved into a Classy Adult Apartment, and to celebrate, we wanted to have a Classy Adult Housewarming. We considered having a beer and cheese tasting party (à la this) but decided it was out of our tiny budget, and more importantly, we would rather just buy cheese and eat it ourselves. We eventually decided on a beer-swapping party, which ended up fitting all of our party needs:
• We didn't have to spend any money on booze. Everyone brought a six-pack and swapped each other to try different beers. It was essentially a glorified BYOB, but it encouraged people to be creative with the beer they brought.
• People brought a diverse array of beers. Our friends drink Lagunitas, PBR if they're feeling thrifty, and Simpler Times if they're feeing thrifty with a side of self-loathing, but at our party, everyone brought something different: Duvel! Negra Modelo! Baba Black Lager! I learned that Howling Wolf Weisse is foul but Bridgeport's Kingpin Red Ale is delicious, despite having the exact same rating on Beer Advocate.
• Since we didn't have hard alcohol, no one got too drunk (unlike that time I thought Four Loko punch would be the most cost effective way to serve a crowd).
We decided to make carnitas tacos in our hand-me-down slow cooker and went to a local Mexican grocery store for 4.5 pounds of pork butt, tortillas, avocados, cilantro, limes, queso fresco and bulk sour cream (which was surprisingly a lot cheaper than buying a tub of Daisy). We also heated up some vegetarian refried beans for a vegetarian option. A friend brought salsa since we forgot to buy some ($0).
The total for the food was about $30 and was definitely worth it — while we could have spent less money on food going the hummus/veggies/chips route, people had fun assembling their tacos and it was nice to be able to provide a meal for our friends. About an hour before the party, we went to Grocery Outlet and bought paper plates ($4.99) and napkins ($1.99), since we currently only own about four plates. Grocery Outlet also provided our six-packs, since they have cheapest beer in town: Red Tail for my boyfriend ($5.99) and Bomb Lager for me ($4.29, and not recommended).
Our friends left slightly day-drunk and full of tacos, we only spent around $40, and we inherited a fridge full of beer that our friends tipsily left us as a housewarming present. One day, I'll live my bougie dreams and have Ina Garten parties, where I'll serve my friends four course meals and signature cocktails. Until then, I'm happy with parties like the The Six-Pack Swap — the ideal party to segway from BYOB college parties to Classy Adulthood.
Shelby Pope lives in Oakland and is still finishing that beer. Photo: Steve Jurvetson
---
Support The Billfold
The Billfold continues to exist thanks to support from our readers. Help us continue to do our work by making a monthly pledge on Patreon or a one-time-only contribution through PayPal.