A View From the Queue
by Sarah Zabrodski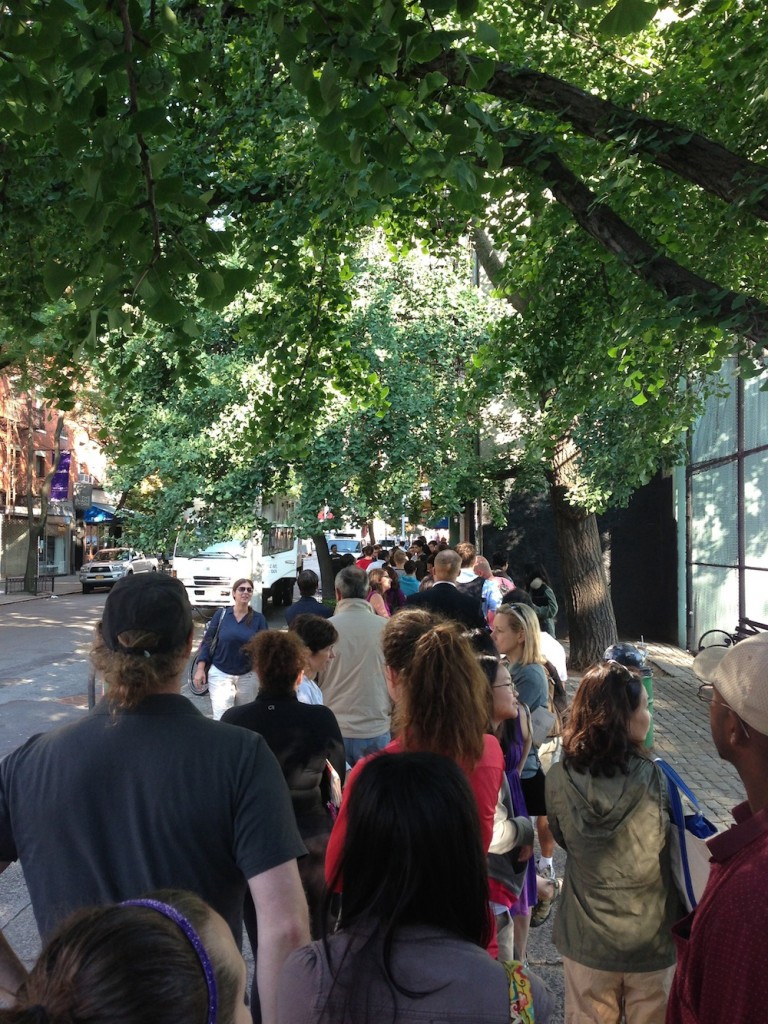 People waiting in line for cronuts.
During my past-life as a student in New York City, I used a flexible schedule to my advantage, waiting for six-hour stretches to obtain discounted tickets to shows like "The Book of Mormon." New York may be a city for the wealthy, but it also has a place for those bereft of cash, but rich in time.
The sheer volume of New Yorkers with irregular schedules means epic mid-week, mid-day lines are a reality that never fails to amaze. Compound the length of the line for each of the following factors: 1) discounted price 2) free 3) limited quantity or engagement of a product/event.
I recently spent two weeks in NYC housesitting for my friend's boss. This arrangement entailed an abundance of free time during which I committed myself to a series of queues. Was each one worth it? Does time spent in line correlate with the quality of experience? Even more pressingly, did I really save any money?
Cronuts
If you follow any form of popular social media, you should already know about Cronuts — the half croissant half doughnut pastry that's become a phenomenon. Imitations have cropped up, but the original is the genius creation of Dominique Ansel, celeb pastry chef, and his Soho bakery makes only 300 a day. The bakery opens at 8:00 a.m., but people line up as early as 5:00 a.m. If this doesn't seem insane enough in and of itself, know that a black market for these delicacies exists on Craiglist with a reputed 500 percent markup.
Total time: 2.5 hours (6:30 a.m. — 9:00 a.m.)
Total cost: $10 (two Cronuts) + $0.50 (obligatory 'I ate a Cronut™" postcard) + $7 (cab fare when I realized the 1 train was massively delayed and my line anxiety started rising) = $17.50
Worth the wait?
Everyone who tasted the Cronuts who DIDN'T endure the line with me deemed them absolutely divine. I thought my Cronut was merely fine. The takeaway: Cronuts taste better without a 5:30 a.m. wake up call and two-hour wait preceding their consumption.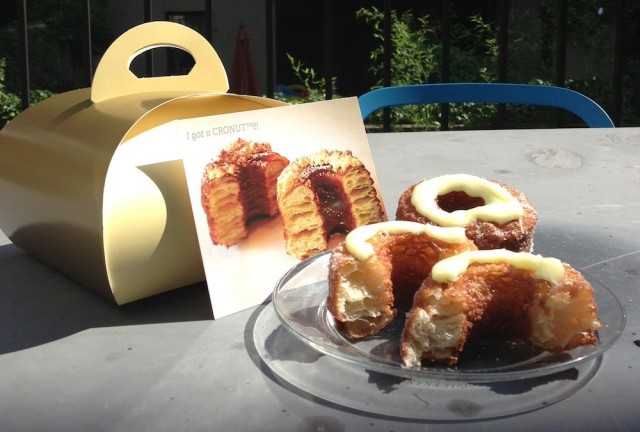 Cronuts.
Shakespeare in the Park
Shakespeare in the Park, performed annually in the Delacorte Theater in Central Park, has been a longstanding item on my NYC bucket list. Tickets are free (each person in line is entitled to two tickets) and distributed at noon on the day of the performance. Advance research revealed that line skipping is forbidden and the rule strictly enforced. I love a well-organized queue and the Shakespeare in the Park one was exemplary. That being said, the number of times the staff cautioned us against getting in fights with our fellow line neighbors made me wonder what prompted this warning to become an issue worth emphasizing.
Total time: 4.5 hours (8:00 a.m. — 12:30 p.m.)
Total cost: $8 (breakfast bagel and coffee for the line) + $0 (free admission!) + $20 (treats for the actual performance) = $28.00 (for purely food and beverage related purchases)
Worth the wait?
Yes, yes, a million times yes! The current play "A Comedy of Errors'" was a riot. There's mistaken identities, slapstick humor, dancing, singing, and even confetti. If you were among my group, there was also boxed wine.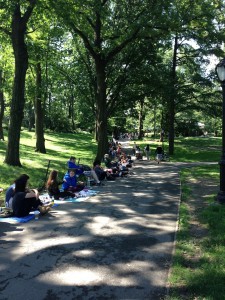 Queue for Shakespeare in the Park.
Outdoor Movie in Bryant Park
Admittedly, this event does not require a line so much as the stamina to arrive early and stake out a spot on the lawn. This was a particularly anxiety-inducing event as the lawn (which typically opens at 5:00 p.m.) stayed off limits until six to allow further drying post mid-afternoon rain shower. Thus, the gravel area around the lawn became packed with people with a Hunger Games-esque determination to claim their space when the clock struck 6. I would have filmed the rush for posterity had I not been elbowing people aside in my own picnic blanket panic.
Total time: 4 hours (5:00 to movie start time at 9:00pm)
Total cost: $13 (salad and savory snacks) + 7 (candy, because a movie without candy is no movie at all) + $0 (free movie!) = $20.00 (again, all for edible refreshments)
Worth it?
Absolutely. I especially love the camaraderie that builds among the audience, which exhibits itself in cheers, jeers, and catcalls at appropriate points throughout the film.

The lawn before the movie in Bryant Park.
Mighty Quinn's Barbeque at Smorgasburg
We chose this purveyor of barbequed meats solely based on the fact that it had the LONGEST LINE of all the food vendors at the giant Williamsburg-based market. Therefore, it must be the best?
Total time: 40 minutes (1 p.m. — 1:40 p.m.)
Total Cost: It's difficult to estimate final cost based on my group of friend's general methodology at Smorg, which involves throwing various denominations of bills onto the table until the exact amount is reached. Therefore, I paid some percentage of $14 (one large sandwich at $9 and one small at $5).
Worth it?
No doubt, the pulled pork and beef brisket sandwiches were tasty. But maybe not as memorable as the no-line-up-required sandwiches of the ice cream variety purchased shortly thereafter.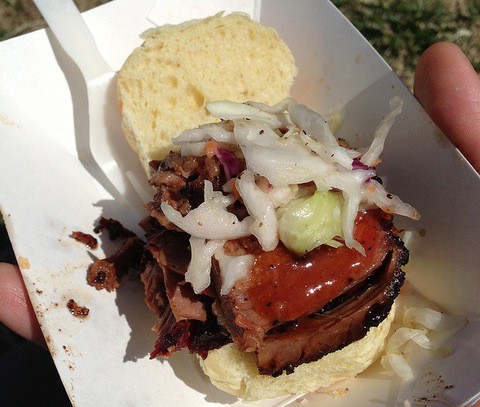 Mighty Quinn's BBQ.
The Rain Room
The Rain Room currently stands in a vacant lot adjacent to The Museum of Modern Art (MoMA). It involves mechanized rain that, in a feat of technical and technological virtuosity, stops falling wherever you step. Thus, you stay completely dry in the midst of a downpour. Needless to say, the queue for MoMA's Rain Room is up to eight (!) hours, as there is no limit to the length of time each person can spend inside.
I emailed my friend who works at the museum to advise on my best course of action. Her response: "Don't even bother." I pressed on, however, and was told to show up at 8:30 a.m. for a "chance" to get in the same morning. My friend and I arrived at the appointed time, joined the line, waited an hour…and then discovered we were in the wrong line. We'd accidentally joined the members only line (museum members have early entry from 9:30 to 10:30am). Before the full weight of despair could fully descend upon us, the woman to our right said she had an additional members card we could use. Who says New Yorkers aren't nice?
Total time: 1.5 hours (due to sheer luck) (8:30 a.m. — 10:00 a.m.)
Total cost: $0 (because we're even luckier — regular MoMA admission is $25)
Worth it?
Although I avoided it, I would unequivocally commit myself to several hours wait and an exorbitant admission price to experience the Rain Room. I have a feeling all line-induced emotions of rage or frustration dissipates as soon as one takes his or her fist tentative step into the magically parting falling water of the exhibit.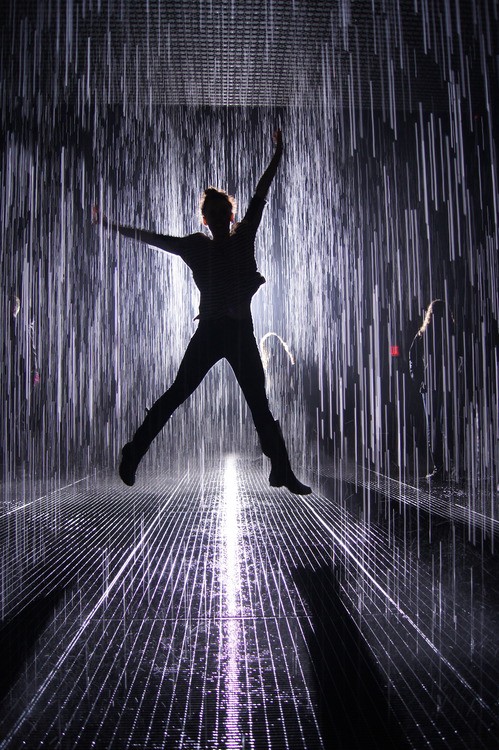 The Rain Room.
Sarah Zabrodski is Alberta born, New York trained, and California bound. She publicly writes about art and secretly blogs about everything else.
Bryant Park movie photo by bfountain. Mighty Quinn's photo by JC Medina.