Places I've Lived: Oh I've Been to Prague
by Emma McCullough
Where have you lived, Emma McCullough?

Dürergasse, Vienna, rent included in tuition, 2007
The first place I ever lived that wasn't a dorm or my parents' house was a fabulous fifth-floor walkup in Vienna's sixth district. I was studying abroad for a semester there and, in addition to living in a foreign country for the first time, I was also adjusting to shopping, cooking, and sharing more than just a dorm room with other people. It was the first place I ever really felt like a grown up, and the first place I was ever aware of feeling self-confident and sexy. (My parents paid the rent.)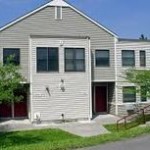 University housing, Danby Rd., Ithaca, NY, parents paid, 2008–2009
When I came back from studying abroad, I was lucky to be able to move in with three of my closest college friends. The apartment was campus-adjacent and university owned, so it wasn't anything to write home about, but the living room was huge and there was a gym and laundry room right out the back door. Although I know at the time there was lots of silly college drama, I now look back on this period of life extremely fondly. There was always raw cookie dough in the fridge in case of emergencies, and one of my room mates and I used to take long Friday afternoon naps on the couches in the living room watching E! (the only good cable station we got). Even though I was ready to move on to the next phase of my life by then, we all cried when we moved out.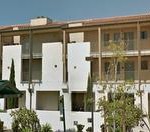 El Colegio Rd., Santa Barbara, CA. Rent: $800, 2009–2010
When I started thinking about moving to California for my MA/PhD program, I decided I had three non-academic goals: to get a dog, to learn to surf, and to live alone for at least one year. At the time, the third seemed the easiest, but quickly learned that living alone in paradise is prohibitively expensive on a graduate student's budget. Graduate student housing it was. The apartment was new, modern, and you paid one bill that covered everything, including internet, more TV channels than I'd ever had before, and utilities. This apartment overlooked a soccer field, which meant that the kiddie soccer games served as an early wake up call on Saturday mornings. Actually, it wasn't the kiddies that were the problem, but their parents.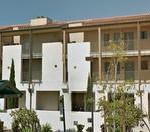 El Colegio Rd., Santa Barbara, Calif, $850, 2010–2012
Same complex, new room mates, higher rent. One night our kitchen sink sprang a sudden and dramatic leak. When the maintenance man came to fix it, he knew exactly what the problem was and said he fixed at least two or three of the same problem (resulting from cheap caulk) every week. Modern amenities, shoddy construction. During this time I started dating my boyfriend and by the time I moved out I was staying over at his place so often that my room had basically turned into a graveyard of half un-packed overnight bags.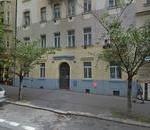 Slavikova Ulice, Prague, Czech Republic, 16,100 czk (about $800US; utilities, but not internet, included), 2012-present
I'm currently on a Fulbright doing my dissertation research in Prague. It's a magical city and I live in a magical apartment in the Vinohrady neighborhood of Prague. It's near the center, but not too close that it's touristy. There are lots of great cafes and restaurants, a really cheap yarn shop, and a big farmers market three days a week, all within about two blocks of my apartment. The whole neighborhood was built around the turn of the 20th century, so I once again find myself living in a fabulous apartment with parquet floors, huge windows, high ceilings, and a fabulous old elevator.
This was the first time I ever had to actually find an apartment on my own, and I've finally achieved my goal of living alone for a year (the only one of my grad school goals that has been completed to date, almost four full years in). It''s probably more than I should be spending on rent, but, as a good friend told me, "It's worth it to eat ramen in a fabulous apartment." She was right.
When my grant ends in June, I'll be returning to Santa Barbara and shopping for an apartment with my boyfriend. Already we have different ideas: He is exciting about saving money by living together; I'm looking forward to getting a nicer place by combining what we were each paying already. But we're each working on lists of our priorities for the new place and I think the fact that we've spent the last year 9,000 miles away from each other will make us both more open to compromise.
Emma McCullough lives in Prague.