My Last Hundred Bucks: What Happens When You Misplace Your Debit Card
by Jessica Beckett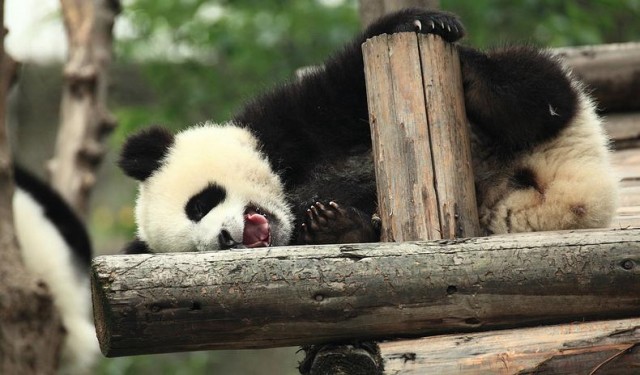 Yesterday I went hiking two hours away from my home. Upon arrival, I realized I left my debit card in the pocket of my jeans, which I had left behind. I don't listen to my father's sound advice, so I had a mere $2 cash on me, as well as a book of checks featuring panda bears.
$2: Two large Poland Springs water bottles on sale 2 for $2. Quikcheck made it very clear that they would not accept a $2 check, the existence or non-existence of adorable panda bears made no difference to this policy, though I did fight the fight no matter how weak the basis of my argument. I am a true American. In the end, my only $2 was spent early in the day in the name of hydration.
$0: $30 of gas. This should be listed as -$15, but I did not have $15.
~$5: Starbucks Venti Iced Skinny Caramel Macchiato. I did not have a debit card, but I did have Starbucks dollars via the Starbucks app on my iPhone.
~$4: Starbucks Tall White Chocolate Mocha. This second Starbucks drink was bought for the friend who accompanied me on the trip, as a "please forgive me that you must end up being my Sugar Daddy for the day" drink. Separately listed because it was a separate transaction, my Starbucks points are important to me. Buying Starbucks is the financial equivalent to lighting money on fire and running through the streets waving it frantically while wearing a wildly caffeinated facial expression, so I win where I can.
$0: Hiking Day pass costs $10. I apologized profusely and made grand promises of future friendship favors worth far over the worth of $10. I don't know why I feel so bad about this (probably because I'm 25 and carrying the amount of money a two-year-old carries in her doll's change purse).(- $10 friend currency)
$0: Rock climbing guide to New England for an upcoming trip to New Hampshire. (- $24 friend currency)
$0: One Portobello Mushroom Taco & One Shrimp Taco for dinner + tip. I experimented with a wide variety of hot sauces including Blueberry and Cumin' & Lime. I learned that I have a genuine distaste for all hot sauces. (- $15 friend currency)
$0: Humbly asked my Mom to borrow $25 when I realized the next morning that my debit card wasn't in my aforementioned pants pocket by way of checking my pants pocket and coming up empty handed. I spent this $25 on chapstick, tissues, a kombucha, and a cake pop, among other things I no longer recall. (-$25 mom currency)
$25: Wrote Mom a panda check for the borrowed money. Unlike Quikcheck, my mom accepts all forms of currency indiscriminately. Especially when offered to her by her children.
$64: Brought friend debt to $0. Thanks to iPhone bank apps, my will friends now accept checks. Did I mention the pandas?
Note: Found the debit card 3 days later, ironically, in my hiking boots that I didn't end up wearing hiking.
Jessica Beckett also writes at The Penny Ledger. Photo: George Lu