College Prestige vs. College Affordability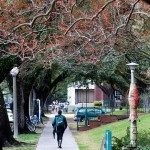 Ms. O'Shaughnessy said she was trying to counsel a father in New Jersey who was on the verge of making a horrendous financial decision. His daughter had received a full scholarship to attend Rutgers University but her first choice was New York University, which, even with financial aid, would cost the family $32,000 a year. The father, an engineer who was also out of work, said he was going to send her to N.Y.U.
"I can't even believe he's considering it," she said. "I was floored. It's irrational."
The Times debates: Choose the college with a more affordable sticker price, or pay top dollar for the one with a prestigious name? You know where I'd fall in this discussion — programs matter more than prestige, and I'd lean toward the one with the affordable sticker price (plus, if you really didn't want to attend a college, you probably wouldn't have applied to it in the first place). Also, I have an unemployed friend from Harvard you may be interested in talking to.