So Much Going On, On the Street Where You Live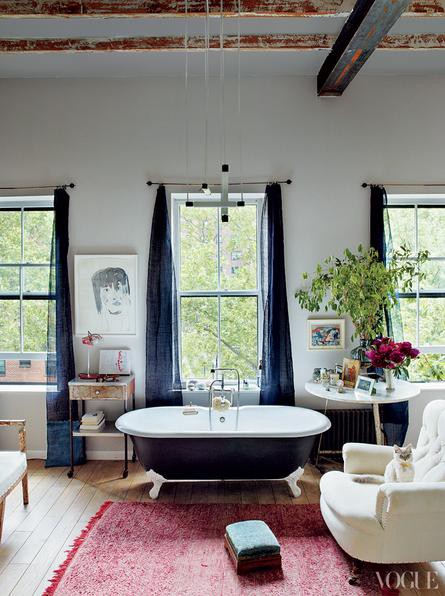 This is the master bath in Miranda Brooks and Bastien Halard's Brooklyn home, featured in Vogue. It used to be a four-family unit; they purchased it in 2008 for $1,400,000 (thanks, Google) and renovated it themselves (ha, kind of — Halard is an architect with "his own well heeled roster" of clients and he "completed the entire gut renovation in six months with a crew of Chinese contractors who couldn't read an architectural plan, and with a budget roughly equivalent to what one of his clients would pay for a bathroom.") I CAN ONLY IMAGINE WHAT THIS MIGHT BE???? I feel like it must be millions. It must be, right? Look how fancy this house is. It was not fixed up with supplies from Home Depot.
If you look very closely at this photo, peeking through the trees you can see the Gowanus Houses, a public housing development with 1,134 apartments. Tenants pay 30% of their gross annual income, less $480 for each dependent.
[Photo in Vogue]