Outside's $1 Tipping Rule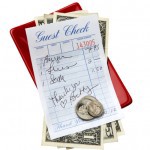 How do know what the tipping rules are when you're in another country? Greg Melville at Outside has this rule of thumb:
IF ALL ELSE FAILS, APPLY THE $1 RULE
Again, you really should know the customs of a place before you go there, but if you're in a bind, apply the $1 rule. That's $1 for a bellhop per bag (if you're traveling in style), $1 a day for hotel cleaning staff, $1 for a local taxi ride, $1 for every $10 on your restaurant bill, and about $1 per hour for a group tour guide for a day (though more if the guide is a private one, taking you on an active adventure like fishing, skiing, hiking, or a safari).
I try to look up this sort of information before I travel, but I'll also arrive in a country and irrationally think, but what if the rules have changed? Also, people have a tendency to disagree.