In ATM News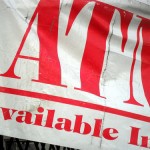 I have a few expensive gadgets (an old digital camera, an iPod) hidden somewhere in a drawer because I haven't found the time to attempt to sell them on eBay or Craigslist, but if there were a machine I could just walk up to and deposit these items in exchange for cash, I'd totally do that. According to The Economist, there is such a machine. It's called ecoATM, and it's based in San Diego:
It has devised and deployed in several American cities a series of ATM-like devices that will automatically analyse your mobile phone, MP3 player or phone charger, and then make you an offer for it. These machines will give you cash in hand or, if you prefer, send the money as a donation to the charity of your choice. The hope is that this hassle-free approach will appeal to people who can't be bothered to recycle their old phone when buying a new one.
(Thanks to Jon Custer for this news.)
In other ATM news, Chase and PNC ATMs may start dispensing $5 and $1 bills. Because sometimes you want to take out exactly $17 and not a dollar more (especially if all you have is $17 in your bank account).
(Thanks to Nicole Cliffe for this news.)