Talking About Money, But Not Talking About Money
by Colleen Hubbard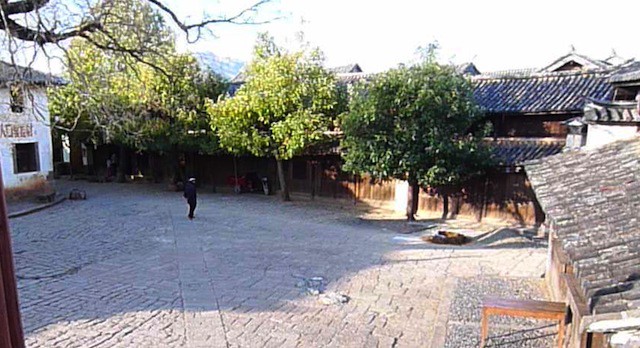 "What do you know about the import-export business?" the woman asked. She was maybe 25 years old, and we were eating breakfast in a courtyard of a small town in China. It was winter and I was wearing all of my clothes. To get here, I'd taken a plane, then another plane, then a third plane after which I transferred to a three-and-a-half-hour, semi-luxurious bus ride followed by a one-hour van ride up a mountain, a non-luxurious van in which one man smoked constantly, another jerked himself awake from a series of nightmares, and a woman obscured her face with a pink silk kerchief until the moment she leaned out of the window and let a stream of vomit slick against the van.
Shaxi, the town, was small, but not too small for a brothel where we played cards and drank moonshine by a firepit while a barmaid hula-hooped to an audience of no one. Other features included a town square listed on the World Monuments Watch list because of its importance in the horse-tea caravan, a 1,300-year-old temple a short hike away, and a cat in a bumblebee costume that would sit on your lap if you held still.
Off-season was lights-out off. With few exceptions, restaurants and other tentacles of the historical tourism trade shuttered. A couple of Chinese tourists milled about with cameras; one couple asked us to pose for a photograph with their toddler, maybe to prove that someone else was in Shaxi when later they projected a series of ghost-town vacation photos on their apartment wall.
We had made plans to stay at an inn, but the owner of the only cafe to remain open in winter determined that the inn had closed for the season, leaving us the only guests at a Swiss-owned education center that was being managed by a young Swiss-American woman with an interest in the import-export business. Let's call her Greta.
Greta joined us for breakfast, a Qiaomian buckwheat pancake spread with honey, one of two options available on a menu that explained that special meal requests were accepted if the ingredients were available, but if they were not available "well, you're in Shaxi!"
What I know about the import-export business is as follows: "Import-export" includes 12 characters scythed with a hyphen, which is not the same thing as an em- or an en-dash. Import-export is how I got the chair I'm sitting on as I write this to you from San Francisco, and it's how the antibiotic I took in Lao or the airplanes I couldn't see through the smog in Beijing took shape in the U.S. but arrived elsewhere. The cat's bumblebee costume was sewn in Vietnam, but the fabric was likely created in China, meaning that Chinese-made felt traveled to Vietnam, where it was sewn into alternating yellow-and-black stripes, made complete with pom-pom antennae assembled in Cambodia, then shipped back to China and sold to a rising middle-class that can afford the delight of animals dressed as other animals.
So the true answer was that I know nothing about the import-export business, but rather than say that, I asked her something.
"Why do you want to know?"
Her boyfriend, a Chinese man she'd met in China, wanted to start a business selling lip balm to American customers, and he suggested her U.S. citizenship could ease the path to their success. They would work as partners, her managing the U.S. customs process, him dealing with officials in China. She wanted to know if we thought it was a good idea.
When we talk about money, we're often not talking about money. We're talking about our hopes and our fears, the plans we're making and the ones we'd rather not make. We're talking about our mother who hid unopened bills in a drawer that got so cramped she threw out the whole desk, or our father who took us to the bank to set up our first checking account and how during the ride home we sat in that yellow pick-up with the starter checkbook kit on our lap, trying not to smudge the fake leather cover while the dust kicked up on the gravel road behind us.
We're talking about whether we trust our boyfriend or not, and whether we see ourselves with him six months or six years from now, and what might happen to our import-export business if he ended up being like what people said about him, and not even him specifically but about local men who wanted to date Western women.
In the same way, we're not talking about a lease as a twelve-month legal contract binding persons to a domicile; we're talking about how we feel about our girlfriend right now and how we think we'll feel about her next spring, when the rain starts and she gets in that mood, and with the purchase of this dress, will we all discover in me some better version of myself, the one who'd laugh if her $400 frock ripped on the subway turnstile? We're not talking about a pine box versus a velvet-lined copper casket for someone we loved; we're talking about a way to lend the sheen of permanence to our affections.
I stayed in Shaxi for two days. It was not enough time to see if Greta decided for or against the import-export business, or to size up her boyfriend. I think of her sometimes, of what might have happened, and when I cut away the plastic shell from a new tube of lip balm, I look to find her name.
Colleen Hubbard is a writer who lives in San Francisco.
---
Support The Billfold
The Billfold continues to exist thanks to support from our readers. Help us continue to do our work by making a monthly pledge on Patreon or a one-time-only contribution through PayPal.