From Librarian to Small Business Owner: A Chat with The Written Nerd's Emma McElfresh
This post is brought to you by UPS. UPS .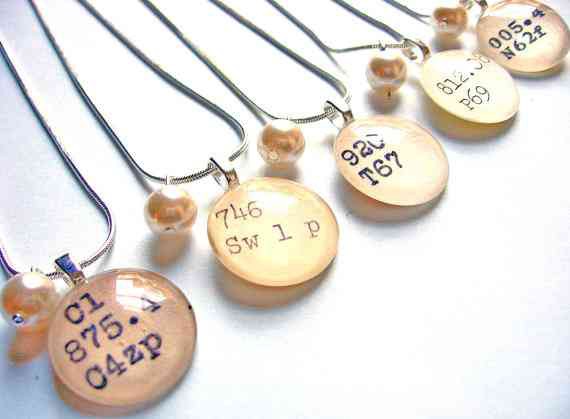 In 2009, Emma McElfresh opened her first Etsy shop while working as a librarian for a private boarding school in Massachusetts. McElfresh's second shop, The Written Nerd, was born when she started to repurpose old library catalog cards into jewelry, which sold very quickly. The success of both Etsy stores allowed McElfresh to quit her job and work on her crafts full-time. I recently emailed with McElfresh during the busy holiday season about how she feels about becoming a small business owner, and her plans for the future.
Can you tell me a little bit about yourself? You were a librarian before you became a small business owner with an Etsy storefront. When did you decide to open an Etsy store, and how did you learn to make jewelry?
I started my Etsy business because, while I enjoyed being a librarian, it was a labor of love in that it did not pay very much, and Massachusetts was very expensive to live in. I have been crafting all my life, and often made little charms and necklaces for myself or friends, so I decided I'd start a small jewelry side gig to help make some pocket money.
I think people who make art and work on crafts dream about being able to quit their day jobs and do it full-time. Can you talk about the decision-making process behind taking that leap? Did you have to have a certain amount in savings before you quit?
It wasn't for a couple years that I started getting regular enough sales and large enough income to start thinking I could leave my day job to work on my business full time. When I realized I was making more money with my jewelry than at the library, I started saving aggressively, and chose a certain amount I needed as a nest egg (for me, 3 months of what I'd make at the library pre-tax, as I don't have children or a mortgage) — saved that, stocked up on my supplies, and researched my options for private health insurance. Insurance is pricey, but I treat it like any other bill I have, and as an educator, my retirement was an IRA already, so instead of putting into it each paycheck like I did when I was employed at the library, I enter a single chunk once a year.
What are some of the most popular pieces that you sell? I know your Dewey Decimal jewelry is quite popular.
I have two shops, my original brand, Sovereign Sea Designs, which sells feminine jewelry and accessories that are whimsical and often inspired by old pieces (like skeleton keys or old photographs), it has a more seaside Victorian feel than The Written Nerd. The Written Nerd sells significantly more, and all my Dewey Decimal jewelry sells fairly equally.
Your business relies heavily on your ability to ship to customers, yes? Do you use any special packaging? Have you found a way to streamline your shipping process? What are some of the more interesting places you've shipped your items?
I use bubble mailers I get in bulk at wholesale prices from online distributors. Now that I've moved to California (two months ago) and have a one-bedroom apartment I rent separately from my living quarters elsewhere on the property, I have much more space and can store more shipping supplies like boxes and envelopes. I ship through the USPS and my relationship to my mailman is very important as they are the first to touch my packages after they leave my hands. I use stamps.com which has helped immensely in streamlining my shipping process since I no longer have to go to the post office, I simply print my own postage and place packages in my mailbox to go out. I have $3 shipping anywhere in the US and $4 shipping internationally — I love sending packages world wide. I've sent items to South Korea, Sweden, and as far as Australia and New Zealand!
I'm sure you also spent a lot of time (like getting a degree in library science, for example) on your career as a librarian. Do you miss it at all? Do you get to incorporate aspects of your job into your business?
I actually don't have an MLS — I worked for a private boarding school for 5 years, and my original job title did not require a Master's degree. However, in the years I worked there I gained priceless amounts of knowledge and my job description changed and grew. I do miss being a librarian. I love helping people find great books to read, or the right research materials for their projects, but I get to use my knowledge of the Dewey Decimal system and organizational skills I honed at the library every day in creating my jewelry. I have a massive collection of catalog cards, both from the institution I worked for (they were throwing them out and said I could take them, that's how it all began) and from libraries I am in contact with around the country who ship me boxes of cards they're no longer utilizing.
How is your day-to-day work life different from when you were a librarian?
I love working for myself. I tend to do best working in short intense bursts, so I work really hard for a few hours, take a break, go back and work some more — rather than the standard nose-to-the-grindstone eight-hour days. Often it means I work longer hours when I'm busy (like the holiday season), but also means I have the freedom to do errands or meet friends for lunch or coffee if I don't have pressing matters that day. While I adore creating new things and making custom pieces, I think packaging my orders up and marking them "shipped" is my favorite part of each day, since I know soon they'll be in the hands of someone who will love them.
What advice would your give to other people who want to quit their day jobs to work on their own businesses? Did you use social media or other tools to help spread the word about your shop?
I do use Twitter, Facebook, Pinterest, and Wanelo mainly as ways of marketing myself. I sell primarily on Etsy, but also have my own website, and I aggressively seek out places to sell wholesale to brick and mortar stores.
Don't rely on just one source of income, if Etsy shut down tomorrow, I'd still have my shops, and a website of my own to sell from. I don't particularly like Twitter — it's just not my cup of tea — but love Facebook, so I've hooked my Facebook page to my Twitter account to auto tweet things I do on Facebook, so I don't need to constantly update both.
Set concrete goals, know yourself and be realistic. I'm a dreamer, so I needed some direction when setting my goals to leave my day job, but I also know I am a very hard-working, Type A person, so the day to day work isn't difficult for me. It might be tempting for some to sit and watch TV all day, and you just can't do that when your income is directly linked to how productive you are each day.
I also examined where I was in my life and what kind of lifestyle I could afford, I don't have children, and have limited bills, and very little debt, so I knew I wouldn't NEED much to survive (if sales fell flat), but I do like to go out, have a certain amount in savings, and like to travel, so those were things I knew I'd be supporting when I left to do this on my own.
Do you have any expansion plans for The Written Nerd? Collaboration ideas? Maybe getting your items into a brick and mortar store?
I am always trying to grow, when I was in Massachusetts (where my family is), I hired my sister part-time to work as my assistant, to keep my studio organized, help pack orders, etc. Now that I'm in California, I am going to wait a year or so and see if I don't meet someone I trust to help me out again.
I have my items in a large number of brick and mortars around the country — in boutiques, handmade co-ops, and library gift shops, but would REALLY like to break into more bookstores, and hopefully a small chain or two. Getting into new markets is always difficult, but I keep trying, sending out samples and price lists to new leads. I hope to hire someone part time in the next year to help with packaging orders and organizing, and would love to employ someone full time inside the next two years.
Sponsored posts are purely editorial content that we are pleased to have presented by a participating sponsor. Advertisers do not produce the content.