Places I've Lived: A Nanny's Room, the Perfect Sublet, and a Place You Can Instagram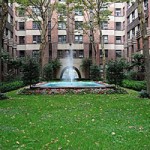 Grand St., Lower East Side, 2006–2008, NY, FREE
I moved to New York the August after I graduated to live with a family in this big brick building on Grand St. and Columbia (Avenue D). I took care of their kid and flailed my way through coexisting with them as I learned to be an adult. I slept on a futon, threw up in designer trash cans, smoked through the window after everyone went to bed, and always got into trouble (yes, trouble) for my messy room. Food was free, but not without commentary ("Who ate all the peanut butter?"); I got a MetroCard each month, but not without reminding someone about it. At this point in my life, I was not very good at asserting my own needs or knowing when shit was not right, as I was too busy being devastated by New York, adulthood, how hard life seemed, how unhappy everyone around me was, how naive and clueless I was, etc. It turned out that men lied ("But he said he really liked me?"), everyone was a writer, I wasn't special, and no one was happy. I didn't know! How did I not know?
The apartment was huge, beautiful, and, best of all, free. I had a big window and a view of the Williamsburg Bridge. Stephen Malkmus was rumored to live there. Some scenes from Eternal Sunshine were shot in our building. I was the Help. The help with a college degree, peroxide blonde hair, and a newly-cultivated addiction to Menthol Lights. I felt adrift and un-at-home, reading their Houellebecq books, and ruining my too-fragile psyche. I left the house whenever I could, and walked through the courtyard gate each time charged with possibility in my Forever 21 dress. I felt very lucky to be young, a strange and sad thing to be aware of and console yourself with, because I knew that while I was not where I wanted to be (like everyone I met, it seemed), I also knew I had time to figure it out. I could leave all of this behind one day, whenever I wanted (if I could only get up the guts to look them in the eye and tell them so).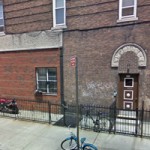 Diamond St., Greenpoint, Brooklyn, 2008–2009, $750/mo
The last six months or so of my nanny stint, I read The Power of Now (not a joke/wish it was), watched a lot of Oprah, kicked my Diet Coke habit, and worked as what we now call a "virtual assistant" while the kid was at school. I probably saved no more than $1,000 before I was accused of Not Caring about my nanny job anymore (true), and moved out to Greenpoint.
$750 seemed like a good deal (still does), so without much thought, I moved in with a friend-of-a-friend. The apartment was lovely and Polish, a good size and on the first floor, but my new roommate left notes like, "NOT CLEAN" on pans, told me I was turning the burners on too high, accused me of drinking her tea, told me I needed to put down the toilet seat cover after I peed, and just generally hated me overall. As I did her. To be fair, I probably didn't know how high to turn the burners. I didn't own anything. I didn't know how to clean, per se. But I was very charming! And patient with her when she would drink too much, and cry to me about how alone she felt. I felt alone, too, but it was (mostly) exhilarating. My babysitting jobs were drying up, and I was broke in a way that is unfathomable now, but I was so proud to be truly supporting myself for the first time, and so jazzed about my turquoise accent wall, and these motivational prints I bought off Etsy. I spent most of my time in that very small, very cold room, writing about my feelings on my blog.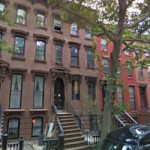 Fort Greene sublet, Brooklyn, early 2010, $900/mo
I got a job working at the platform of said blog, and took a sublet/escape route on an idyllic Fort Greene block, in a fucking brownstone that looked like it belonged on Sesame Street. Once again, I was in a home that was not my own, but this time with a good friend who was laid-back and compassionate and only silently judged me when I ate microwaved Amy's everything. I cobbled together something resembling self-regard, and something resembling a career, and the light streamed in on the Persian rug every morning. The only way to describe the wonder of this apartment is that it's the kind of place where when you go there for a party you leave it wondering why the fuck YOU don't deserve a place like that. Granted, I did not even have a ROOM — just a bed in a big common area that my roommate had to walk through to get to her own (tiny) (enviable) bedroom. Luckily, I never got laid and we got along swimmingly. But four months later, the dashing furniture designer came home from his summer peddling designer furniture on the Hamptons and I was out on my ass.
Nota Bene: I still think about that apartment and still feel like it is destined to be MINE, but probably everyone who has been there feels that way. Oh, I am worse off for ever having seen it.
🙁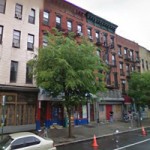 Manhattan Ave, Greenpoint, Brooklyn, 2010–2011, $1300/mo.
I had just gotten a raise and was riding high on my newfound ability to take cabs and start paying old medical bills, so I thought maybe it was time to take things to the next level, real estate-wise, and live on my own. After bouts of cat-sitting and couch-crashing and general panic, the landlord-of-a-friend showed me a studio-ish place (there wasn't a bedroom so much as a bed nook) and then told me my credit was very bad. Ah, it had all counted after all! How humiliating.
My mom signed off as my guarantor, and I swore up and down to her that I'd start paying my student loans. I remember feeling dread about not having any furniture, or silverware, or pots, or pans, or anyone to help me assemble my Ikea bed (I never assembled it, ever). But it was all mine, and I spent long afternoons deciding where to hang all of my motivational Etsy prints. There was exposed brick, a mirrored closet I worked hard to never make eye contact with, and even a fireplace (non-working), that I filled up with books (no bookshelves to speak of).
I fell in love, bought kitchen supplies, learned to cook, had people over for dinner every Sunday (this strikes me as insane now, must have been all of the new love hormones), got a student loan deferral, got a kitchen table (yellow), and also got ants. Whoops! The place was tiny and on the top floor and all the way at the very end of Manhattan Avenue, but I was very proud of it, and affectionate towards it, and sad to leave when I did. What I do not miss, though, is that fucking closet mirror. Why do people do that?
"East Williamsburg," Brooklyn, 2011-now, $700/month
Last July, after a month of couch-hopping and cat-sitting (notice a theme? Planning ahead is not a strong suit), and an old lady refusing to leave the apartment we rented (again, a Billfold story for another day), we moved into this railroad-y yet adorable apartment. Donna at Proper Real Estate, if you're out there checking your Google alert, thank you for saving our lives.
Our only rule when looking for apartments together was that the bedroom had to have a door (moods: we have them!). Nope. No doors. No sink in the bathroom. First floor, facing the street. Not in Greenpoint, but in this tenuous area right off the BQE that is neither Williamsburg or Bushwick. Concrete jungle (where dreams are made of). But: a tin ceiling in the kitchen! A fold-out ironing board by the only sink in the apartment! Little cut-out shelves between rooms, so that the sun just barely shines through! It's …"cute." We have a Cute Apartment. Which apparently is all that matters when I am trying to envision building a life with someone: Will it look good on Instagram?
(In a cruel twist of fate, our apartment is so hilariously narrow you can't even get far enough away from any one wall to take a photo of it head on.)
We renewed our lease in July and felt a little depressed about staying put, but promised each other we'd start plotting our eventual escape. When the building changed hands, our rent was raised $50 a month, so we took the opportunity to haggle access to the neglected backyard. Now we have a vegetable garden, big sunflowers, and more pears and figs from the fruit trees than we can give away. And probably a resultant case of lead poisoning. Hooray!
We feel pretty lucky to live in this adorable little shithole. I tell myself that one day I won't have to brush my teeth over the bathtub. And I am excited to keep cobbling together a life.
Meaghan O'Connell is the editor-in-chief of meaghano.com.
---
Support The Billfold
The Billfold continues to exist thanks to support from our readers. Help us continue to do our work by making a monthly pledge on Patreon or a one-time-only contribution through PayPal.