I Can Walk Everywhere, But Still Love My Car
by Brittany Shoot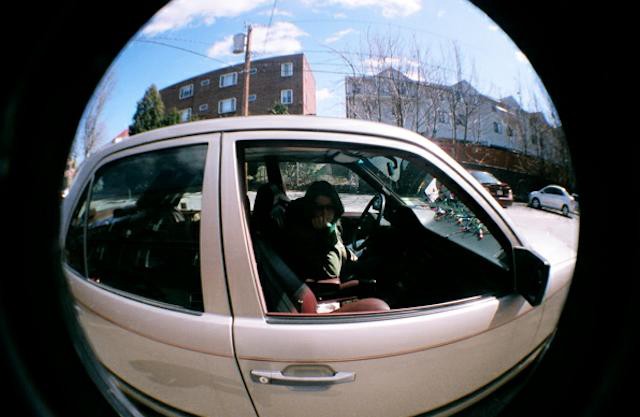 People are often surprised by my passionate attachment to my car, a champagne-colored, diesel-powered 1987 Mercedes Benz named Stan. Sometimes they're surprised because I'm a girl (and they are sexist), or because I'm a vocal environmentalist. But mostly it's because I live in downtown San Francisco. The fact that I live within walking distance of (most) everything awesome and still own a car confounds nearly everyone I meet.
I'd dreamed of a car like Stan most of my life, and five years ago, I found him in a Boston suburb for $3,000, cash. A family was unloading their patriarch's estate, and I jumped at the chance to care for his ride and give it his name in memoriam. Since then, Stan the Mercedes has been up and down the eastern seaboard half a dozen times, locked in storage for several years while I lived overseas, and driven from Boston out to California last fall only days after he was dusted off. He's a hell of a trusty ride.
When I moved to California, I made my personal journey of westward expansion in my favorite car — and when I arrived, I wanted to keep my wheels. I did, and that's why, even in a neighborhood with a plethora of car-sharing options around, I have come to proudly defend the cost of car ownership.
Since I bought Stan outright, my regular costs are cheap insurance and exorbitant parking. I have the cheapest insurance, ever. Because my father was an Army reservist, I have what is possibly the most coveted car insurance in the country. United Services Automobile Association (USAA) insurance coverage (plus myriad financial services) is only available to individuals and the families of those who have served in any branch of the U.S. Armed Forces. With every bill, I think, Thank you for your service. (Actually, no, I'm horrible and just think, Thank you for the cheapest insurance, ever.) I pay a mere $42 a month ($504 a year) for coverage. This does not include collision protection, because, though Stan may be a priceless treasure to me, he isn't worth anything if he gets smashed up.
My cheap insurance is balanced out, however, by my massive parking costs. I pay $300 a month ($3,600 a year) to park Stan in a nearby public garage. Even if I could outsmart the hotel valets in my neighborhood and score a street spot, street parking rules around here mandate that you move your car every 72 hours. I decided to buy my way out of that inconvenience, and so, every time I want to drive somewhere, I make the 10–15 minute hike straight up Nob Hill, where I'm sure Stan is waiting for me, ticket-free.
To own my car, that's $4,104 annually before fuel and maintenance gets factored in.
There is a Zipcar hub with 16 spots in the garage where I park Stan, and a few times I've wondered if that would be a smarter option. Here are the Zipcar rates for San Francisco: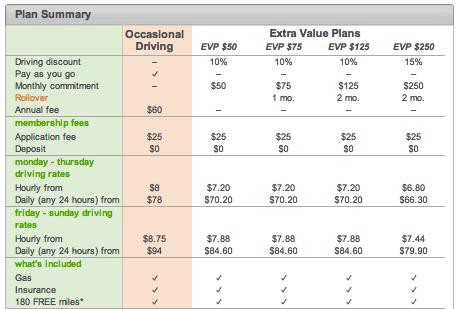 The cars available under the Occasional Driving Plan start at $78/day for full-day rentals (weekends rates, including Fridays, jump to $94/day). There's also a $60 annual fee and $25 application fee to consider. At those rates, it would cost $1,957 to take a Zipcar out for a full day twice a month — $2,341 if those days were both weekend days. It's up to $3,829 if I rent a Zipcar for a full day once a week — $4,597 if my daily car day is a weekend day. These prices include some fuel (the first 180 miles per trip) and maintenance.
But here's where it gets tricky. When I do take my car out, I take it out. When my best pals from Boston came out to visit last month, we took the car out several days in a row, driving down Highway 1 to Big Sur, over the Golden Gate to Muir Woods, and crossing the Bay Bridge to hit up the best eateries in Oakland. For those three days (Friday, Saturday, and Sunday), we'd have paid $252 for all-day Zipcar rental, plus extra for mileage if we did more than 180 miles/day. On the day we drove to Big Sur, which is 300 miles roundtrip with absolutely no detours, we would have paid an extra $54. That one-day Zipcar rental would have cost at least $148, or more than a third of the $342 monthly for Stan.
And that's when I stopped doing the math. I take my car out at least a few times a month. This weekend I put 350 miles on it. And maybe I don't actually come out ahead of my car-sharing friends, but that's okay. By keeping my car, I get all the perks of private ownership — my personal assortment of maps and supplies in the backseat, trunk, and glove box; my own music selection and radio pre-sets — and never have to wonder if a car will be available or how much I'll spend to borrow it. And of course, most of my car-less friends don't hesitate to hit me up for a ride. Not that I mind. In fact, I kind of love it.
Brittany Shoot wants to join a car club. She never tweets and drives.