Memorabilia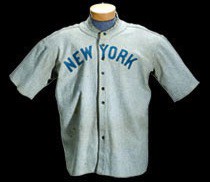 "Mike loves Abraham Lincoln," my friend Greg declared to my eight-year-old pen pal during our meet-and-greet with our 3rd graders last week.
"You do?" my pen pal, Joel asked. He had been rattling off the names of all the U.S. presidents he had been learning about in school when Greg interjected with a fun fact about me. "I like George Washington," Joel said. "Why do you like Abraham Lincoln?"
"Well, he had a fascinating life before he became president," I said. "And the events surrounding his assassination are also really interesting — oh, do you know what assassination means?"
"No."
"Oh, okay, well, maybe you'll learn that in school soon."
Greg looked amused by the exchange. I'm glad he didn't tell Joel about the Abraham Lincoln art cube he bought for me as housewarming gift last year, or about the pillow with Abraham Lincoln's face on it that a roommate had bought for me a few years ago as a birthday gift, or — and this is super embarrassing — about that one Halloween where I dressed up as Tad Lincoln, Abraham Lincoln's youngest son who was doomed to die at the age of 18. I also watch shows like Pawn Stars or Antiques Roadshow because sometimes they'd show a random piece of memorabilia related to Lincoln in some way.
Watch Appraisal: 1865 Abraham Lincoln Mourning Parade Banner on PBS. See more from Antiques Roadshow.
Hey, we all have our things. This is one of my things.
Other people collect sports memorabilia, for example, the Babe Ruth jersey that sold at an auction last night for $4.4 million.
Do you have a thing? Are they comic books, or record albums, or things that look like Jesus? Thankfully, my Lincoln stuff are mostly books, and random knickknacks of very little value. I've yet to come across an authentic piece of Lincoln memorabilia that I'd open my wallet wide for, but I'm sure it out there — somewhere.
---
Support The Billfold on Patreon
The Billfold continues to exist thanks to support from our readers. Help us continue to do our work by supporting us on Patreon.