What Our Professors Earned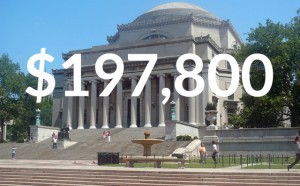 One of my favorite things in the world is knowing what people earn. Like that recent story in the Times about how much C.E.O.s earn, or that terrific piece Emily wrote today letting us know about her $200,000 advance. Knowing how much my coworkers earned at my old job put me in a good position to ask for a big raise because I knew how much I should be earning based on what my predecessors told me they raked in.
This is why I love this table provided by the Chronicle of Higher Education listing the average salaries of professors and instructors at 1,251 colleges across the U.S. Harvard professors, as you'd expect, are the highest paid, with full professors earning an average annual salary of $198,400.
Even better than that is this database from The Sacramento Bee listing all the salaries of California state workers. I looked up what my senior thesis advisor earned in 2010, and discovered that she took home $93,000. Get yourself a teaching job at Harvard, Professor Silver!
---
Support The Billfold
The Billfold continues to exist thanks to support from our readers. Help us continue to do our work by making a monthly pledge on Patreon or a one-time-only contribution through PayPal.