What Our Adjuncts Earn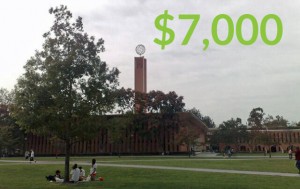 Last week, I wrote a post about what professors typically earn at 1,251 colleges across the country, and a few of you who work as adjunct professors noted that your pay is pretty awful in comparison. "An adjunct — who is making up much more of the teaching force than tenured or tenure-track faculty — can be paid as little as $2,000 to teach a course," you said. Another one of you sent me a link to this very interesting website called The Adjunct Project, which is crowdsourcing data on the pay and working experiences of adjuncts from colleges everywhere. The project was started by a 32-year-old writing instructor named Joshua Boldt who was inspired to make the lives of adjunct professors as transparent as possible after meeting with a bunch of them at a conference in Washington D.C.
I went through the spreadsheet a little and pulled out some bits of data.
• At Oklahoma State, adjunct professors in the department of Foreign Languages earn as little as $700-$1,200 per course.
• Adjuncts at the City University of New York (CUNY) typically earn less than $3,000 per course.
• A math adjunct at Texas A&M is earning $6,500 to teach a course.
• In the Social Science department at USC, adjuncts can earn $7,000 per course. At Duke, the "official rate" for adjuncts is also $7,000, but "those in a position to demand, can."
• Adjuncts at Devry must teach pre-packaged content.
• A history adjunct who got his Ph.D. at Lehigh says he is "treated as property whose need to survive was disregarded."
There is a ton of more info on the spreadsheet. It may be useful to you if you are getting a graduate degree at one of these schools, and want to learn what your pay and work experience may be like at the school you are attending.
---
Support The Billfold
The Billfold continues to exist thanks to support from our readers. Help us continue to do our work by making a monthly pledge on Patreon or a one-time-only contribution through PayPal.