Brokers vs. Bedbugs: Which is Worse?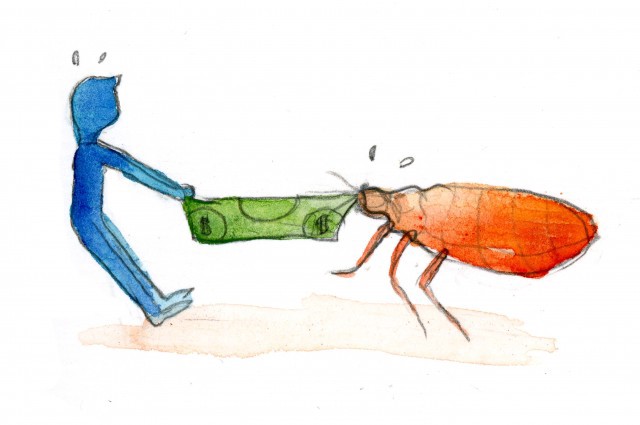 Brokers and bedbugs are not unique to cities, but they are native to them, and inescapable. They are invasive parts of the eco-system, specifically the most vulnerable, personal part of it: your home. Neither can be ignored; neither, after you meet one, forgotten. It costs fantastic amounts of money to deal with either the literal or the figurative bloodsuckers, yet both afflict the rich and poor alike.
I am fortunate never to have dealt with the literal bloodsuckers myself — very fortunate, since my then-boyfriend Mr. Ben and I furnished our first apartment off of the streets of the East Village, and really only stopped "rescuing" items from the curb in the last couple of years. I have, however, witnessed the havoc bedbugs can wreak on the well-being of friends and family. And I have read Teju Cole's haunting meditation on them in Open City:
I thought of the bugs in all their countless millions in all five boroughs of the city, of their invisible eggs, of their appetite, which was greatest at the hour before dawn. … The concerns were primeval: the magical power of blood, the hours given over to dreams, the sanctity of the home, cannibalism, the fear of being attacked by the unseen. …
No one has ever waxed rhapsodic the same way about brokers. There is nothing poetic about them; they are the kind of middle-men who insert themselves where they're neither needed nor wanted, and then extort enormous sums for their trouble. Brokers are so widely despised that even some other brokers call them "douche bags."
Once, when surveying an apartment with a broker, I mentioned my husband (Mr. Ben had graduated to that status by then) and the broker cut me off to exclaim in his Fran Drescher-like voice, "No. No! You're a baby!" At another sub-par apartment, Fran lost his temper with me when I said, "For $2,000, we'd like a large one-bedroom in a building with laundry and an elevator."
"Forget it," he snorted. "You'll never find it."
Another broker at a place I liked refused to give me the paperwork at all when he found out I was married. "Sorry," he said, sounding anything but. "I don't like giving wives applications without their husbands present."
I ended up with a roomy garden apartment with a huge private backyard and a washer-dryer for $1,800. (Suck it, Fran!) But Mr. Ben and I did have to fork over about $2,000 to that landlord's broker — who had done nothing more than show up at a pre-scheduled time and unlock the front door. $2,000 for an hour's work, and he didn't even have to go down on his knees or put on a Japanese schoolgirl outfit. Not a bad deal.
Which costs more to dispense with?
BEDBUGS
The site Bedbug Pest Control provides tips for dealing with an infestation:
Since bed bugs are very sensitive to heat, a steam cleaner is the best way to safely kill them on contact. A steam cleaner such as a McCulloch Heavy Duty Steam Cleaner is powerful enough to get over 140 degrees Fahrenheit and will kill the bugs without toxins and leaves no residue.
Steam Cleaner list price: $150, or $99 on Amazon.
You'll want to protect your box spring and mattress with something like the Sleep Defense System ($23.95 on Amazon for the box spring, plus $38 for the waterproof mattress cover). Even then, though, you'll probably want to bring in a professional, which can run you $100 or more for the inspection and $500-$1000 for treatment.
TOTAL COST: $765-$1,765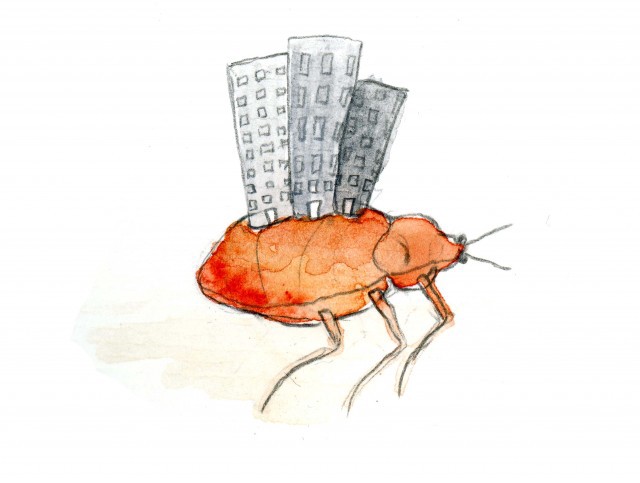 There can be other, unseen costs as well: one friend of mine changed apartments rather than deal with the varmints she discovered her roommate had. And you may have to factor in therapy bills, premature aging from the stress/fear, and the shame of feeling ritually unclean.
BROKERS
Increasingly it is difficult to avoid having to deal with a broker, even if you are renting an outer-borough apartment (though you can, and should, try). My first apartment in Brooklyn I got straight from the management company with no fee. That is bliss akin to walking into Di Fara's and finding they have a slice hot out of the oven waiting just for you. Brokers have continued to colonize the borough since those carefree, happy years, though, and No Fee apartments — whether offered By Owner or by the management company — are scarce, especially in high-octane months like June and September.
Dealing with a broker doesn't always mean paying one. Once I got a future landlord to foot the broker's fee. It never hurts to ask.
But in the vast majority of cases, you will need to go through a broker, and you will have to pay. How much will it set you back? According to MyNewPlace.com, in February, the average Brooklyn one-bedroom cost a hair under $2,000, and a two-bedroom cost $2,895. (You don't even want to know about Manhattan.) A broker will charge a fee ranging from 10% to 15% of the yearly rent.
TOTAL COST: $2,600 and up
If you live in the city, odds are you'll move at least a couple of times, no matter how much you may want to stay put: buildings change hands, relationships end, jobs come and go while rents go up (and up, and up). The insidious thing about brokers is that you're on the hook for $2600 or thereabouts every time you move. The insidious thing about bedbugs is that they feast on your body while you sleep. Which is worse? Oh, hell, I have to say bedbugs: they're out for blood, and they will stop at nothing. You can find good brokers — or, again, you can, and should, try — but everyone knows you can't negotiate with terrorists.
If you rearrange the letters in 'ester bloom' they spell 'trees bloom,' which makes a lot more sense. she tweets in full sentences as @shorterstory and blogs at Full of Pith and Vinegar.
Illustrations by Charrow. She lives in Brooklyn.
---
Support The Billfold
The Billfold continues to exist thanks to support from our readers. Help us continue to do our work by making a monthly pledge on Patreon or a one-time-only contribution through PayPal.