Who Do You Talk to About Money?
This post is sponsored by 360 Degrees of Financial Literacy, a free program of the AICPA.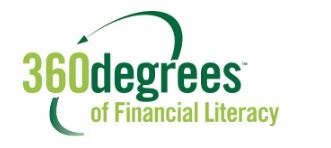 The Billfold has always billed itself as a place to have honest conversations about money — which is important, because there aren't a lot of spaces in which people feel comfortable discussing their finances. Spending every day with all of you has made me so much more financially savvy; you've seen me get out of debt, build up my emergency fund, open an IRA, and start my first investment portfolio.
But when you're not on The Billfold, who do you talk to about money? Anyone? Or do you save your money-related questions for the next Question Wednesday?
You don't need me to tell you that there's a lot of baggage around discussing money, especially if you're earning significantly more or less than your parents or peers. It's awkward to tell a friend that you can't afford to go to dinner with them — and it's just as awkward to suggest a restaurant that your friend can't afford. It's hard to ask your parents for financial help, and it's even harder to ask your parents if they need financial help from you.
It's also hard to ask questions about money. Most of us would rather search "how does a 401(k) work" on the internet than ask a coworker. We hesitate before asking our parents or siblings how they made their first budget. We don't ask our friends whether they're investing in the stock market. Part of this is because we don't want to look foolish — I mean, we don't want to be the only one in the office who doesn't know what a 401(k) is — and the other part is that we don't want to make other people feel uncomfortable. Maybe our friend is living paycheck to paycheck. Maybe our brother doesn't want to talk about budgeting because he doesn't have one.
However, it's good to know how to start financial conversations with friends and family — and where to go when you have a question that's too complicated for even The Billfold to answer.
How to start financial conversations
The best way to have financial conversations is to just start them. "I'm trying to cut back on restaurant spending. Want to hit up the food cart pod instead?" "Dad, what do you think about all of us switching to Secret Santa this year?"
Some financial conversations will be harder to start than others. Asking a friend if they want to switch to a less expensive restaurant is relatively easy; asking your family to change an annual tradition is a little harder. Asking your parents whether they have long-term care insurance is kinda expert-level, but you can get to that point by asking the easier questions now. Become the person who talks about money, and people won't feel quite as blindsided when you ask the big financial questions.
When you have these conversations, it's also important to listen. Financial conversations can easily devolve into "here's what I think is the right choice," which can make other people feel ignored or judged. Whether you're planning a family vacation or asking a partner if it's time to set up a shared bank account, you need to pay attention to both verbal and non-verbal responses. People will often agree to some money-related decision even if they are uncomfortable with it, because it's hard to say I can't afford it or I don't want to. If you sense some hesitancy, try introducing a different solution to the problem. This gives the other person another option, invites them to contribute their own ideas and solutions, and changes the conversation from "one right choice" to "several possibilities."
What to do if you have complicated financial questions
I get the occasional reader email asking if I can help with a complicated financial question. These aren't the "which budgeting software should I use" questions; they're specific, individual, and complex. They're also the kinds of questions I don't have the expertise to answer, and I usually tell people they should consult a CPA.
Of course, not everybody has a CPA. You might remember that we discussed "when should you get a CPA?" in one of our recent Question Wednesdays — but even if you know that it's probably time to reach out to a CPA, it might be hard to pencil something into your schedule last minute.
The AICPA's 360 Degrees of Financial Literacy program wants to make it a little easier for you to ask those complicated financial questions. Their tried and true resource, Ask the Money Doctor, is an anonymous forum where volunteer CPAs answer your questions for free. You can also search previously-asked questions to see if someone else has already asked something similar. Maybe you also want to know whether you can move money from your 401(k) into a 529 plan, or whether money received from an annuity is taxable.
The next time you have a question for someone with CPA-level expertise, consider Ask the Money Doctor — and when you get your answer, share it with The Billfold on Share Your Success Tuesday. Or, if you're feeling brave, share what you've learned with your family and friends. After all, it's important to learn how to talk to other people about money.
---
Support The Billfold
The Billfold continues to exist thanks to support from our readers. Help us continue to do our work by making a monthly pledge on Patreon or a one-time-only contribution through PayPal.